Football Party Ideas


Let the scrimmage begin with our Football Party Ideas. All you football fans get ready for a party with no penalties. The live action of this party will be a hit. Open your tailgate and kick off this party with a bang.


---
Football Party Supplies and
Football Decorations
Football Party Ideas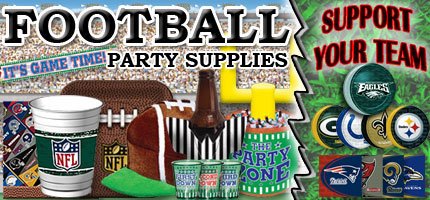 Football Party Supplies
Go colour crazy for your favourite team colours. Have your ceiling covered with helium balloons. String streamers in your colour theme. Hang posters of football teams and of large footballs and end zones. Decorate with Football birthday party supplies!
Hang a sign around your food and call it the tailgate party and by your drink zone call it your end zone. Make these signs on framed blackboards.
---
Football Party Invitations
Football Party Ideas
Homemade Football Party Invitations - Make your party invitations the shapes of footballs. Decorate the outside with sharpie markers to make the outlines then add some detail with a little glitter on the lines. Place stickers from your favourite team on the football. Print out all the party information onto computer stickers and place this on the other side.

Or, get your pre-made Football Invitations HERE!


---
Football Party Games and Activities
Football Party Ideas
Decorate Footballs and Helmets - Pre-cut-out football and helmet shapes on stiff paper. Have all types of decorating materials available. Some favourites are coloured glitter glues, google eyes, ribbons, etc. Or if you want to go all out get foam footballs. Spray them white in advance and have your guests paint them.



Pin the Football on the End field - Make your own football field easily with any rectangle paper. For the footballs you can make each a different team to differentiate between the participants. Use football stickers to make the football designs easier.



Team Jersey Designs - Make your own shirts by tie dying shirts / jerseys. Remember to paint on your last names and shirt numbers.



Smile .. You're Football Star! - Get a life sized cut out of players and cut off their head and pose yourself as a football players.



Bean Bag Football Toss - Get a piece of plywood or MDF from a building supply store. They will even cut this piece of wood to the size you desire for a reasonable price (usually you get a couple of cuts for free). When at home paint the board and put a couple of holes in hit to throw the bean bag through. Tape the ground to show where to stand.



Play Touch/ Tag Football - Have the flags in your favourite team colours. I would use a foam football to help prevent injury.



Football Trivia - Create a sports trivia game and make the question difficulty level to suit your guests knowledge. Hand out little prizes for the winners.



Euchre Game - if watching the game set up a euchre tournament to play at the same time. Have multiple TVs set up so you can see the game at all angles.



Watch a Football Game - Make a friendly betting game. Make a chart with twenty or thirty squares. Place reasonable scores for a football game in the squares. Have your guests pay a dollar a square and they then get to place their name or initials on the squares. Do all of this before the game begins. At each quarter check out the score. Whoever's name is on the right score they win a quarter of the prize money.
Print and Play These Fun
Superbowl Party Games!
---
Football Party Food
Football Party Ideas


Football Party Dip
Football Party Dip- we mad a fantastic football dip that was also a fantastic centerpiece.
Appetizers are fantastic while watching football - try wings, potato skins, mozzarella sticks, anything in a wrap or deep fried is also great.
Usually favourites are also pizza and a 6 foot long sub.
Football Shaped Sugar Cookies. Pre-make the cookies if you wish or you could mix them up when your guests arrive. Later in the party have decorating items like the icing, sprinkles and candies for people to decorate their football cookies.
Football Cake - Football Field Cake - make a rectangle cake and with the icing design the field. You can also get the football players to stand on the cake from Wilton.
Football Shaped Cake - get the Football cake pan. Use the star design and chocolate icing to decorate the cake (or brown M&Ms).
---
Football Party Drinks
Football Party Ideas
For a Younger Crowd try may types of sodas and juice
For a Mature Crowd a Mixture of Beers (place in a large colourful container filled with ice). Use a different colour to show the different types of beer. This also keeps it easy to know which type needs to be refilled.
Get a Beer Keg. If hosting with a keg, you must cool it prior to the party. Have a large container filled with ice (can get them in many colours at big box stores) and remember to rent a tap at the beer store.
Cocktails - if making cocktails match the colours of drinks to the teams colours. Also add to the top a colour co-ordinated umbrella or sword with colourful fruits.
More Sports Party Ideas
Teen Party Ideas
Adult Party Ideas |
Perfect Party Supplies
My Secret |
Share Your Party Ideas
Party Blog |
Site Map |