Glow Party Ideas
"A Glow Party is the coolest party around!"

There is nothing better than a party where the atmosphere is dark, and your attire makes the occasion sexy, yet sophisticated. Nowadays you can get almost everything to glow for your glow in the dark party. Favorites include glow in the dark make-up, club clothing and drink glasses, but there is so much more to this fun, inventive take on the traditional glow stick party.
---
Glow Party Supplies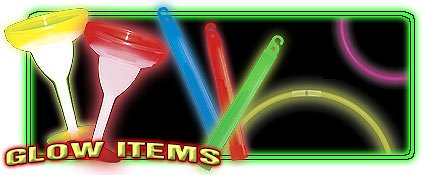 Creat a Dark room by blocking all outside light
Use Black lights (they come in all different sizes to fit all lights)
Strobe lights
Hang a Disco ball
Fog machine
Get a Party Bubble Machine
Glow in the dark paint (make sure you have permission)
Have lots of Glow Sticks
Serve drinkd in Glow in the dark glasses
Use Glow in the dark straws
Glow in the dark balloons and streamers (white and neon would also work)
Glow Party light string



---
Glow Costumes
Glow in the dark make-up
Glow in the dark nail polish
Glow in the dark hair die (or neon) You could so it all (best for extremely short hair), but I would be more subtle and just add highlights (especially if your hair is long)
Glow Earrings
Glow in the Dark necklaces and bracelets
*** hint – be careful of your underwear (you can see a white bra through your shirt)
Glow Games and Activities
Decorate shirts with glow in the dark paint or highlighters (I would use tight tank tops, little skirts, etc. think of what you would wear to a club)
Set Up a good Stereo and have a dance party
---
Glow Food
Use glow in the dark cups, etc
Glow in the dark ice-cubes
Glow bowls or use clear containers for your food e.g., two bowls on top of each other with a glow stick in between to light up the food
---
Glow In The Dark Party Favors
Any Glow Item would make a great Party Favor to give at the beggining or the end of your Party!




Black Light Party Ideas
Share Your Glow Party Ideas and Stories

More Fun Teen Party Ideas

More Adult Party Ideas and Themes


Black Light Party Ideas
Perfect Party Ideas Home | Birthday Party Ideas | Kids Party Ideas | Teen Party Ideas
Adult Party Ideas | Seasonal Party Theme Ideas | Party Games | Party Supplies
My Secret | Contact Us | Privacy Policy | Share Your Party Ideas | Party Blog | Site Map
Party Links | Cake Ideas