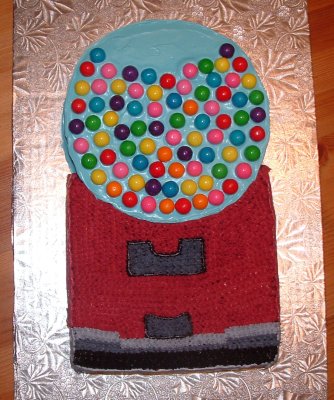 What a whimsical Gumball cake. This is a great cake idea for a party that will give people the choice of having yellow cake or chocolate cake.
I cooked a yellow cake in an 8 inch round cake pan. I used half a box mix for this size pan and used the rest for cupcakes. Then I baked a chocolate cake in an 8 inch square cake pan. Again I used half the box mix and the rest I made into cupcakes. This gives great variety at a party.
Once both cakes were cooled I levelled both cakes. I used the small Wilton cake leveller. Then I placed the round cake pan onto the square chocolate cake. I used the pan as a guide and I cut the round shape, so both cakes would fit together.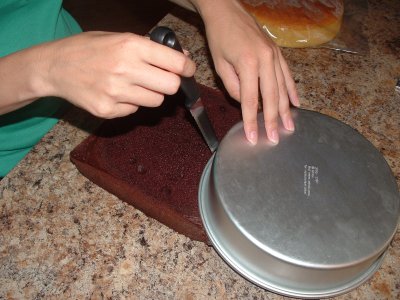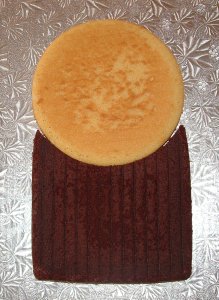 I then iced the ball part of the gum ball machine. I made a light blue icing for the ball thinking that it would look like the reflection of light off the glass. I iced all around the cake then I slid the chocolate base up to the glass ball. The icing seals the two cakes together. I outlined the desired shape for the coin slot and the gumball release. Next, I used tip #16 to make a star design coloring in the base of the gumball machine (choose any color here I made mine red, but purple, blue, or pink would look fantastic). I used black, grey and silver at the bottom of the cake to make it look like there was more texture. Next time I think that I might cut off the bottom corners making the cake more round, but this time I wanted a larger cake. To finish off the cake I added real gumballs into the gumball machine. The kids love the gumballs!

A party, fun colors / decorations and candy are always a great combination!