Halloween Party Ideas

Why not host the neighbourhood Halloween Party this year! Fill your house with haunting decorations and play some spooky music. Have a theme like a Halloween monster mash, or a Vampires Ball. Give out prizes to inspire your guests to dress in their Halloween best. Be brave enough to have a horror movie party and watch all your favourite scary movies.

Or, for the kids maybe you just want to have fun and have a Pumpkin carving party. Head out to the local pumpkin patch to pick that perfect pumpkin. Throw on some Scooby Doo or It's the Great Pumpkin, Charlie Brown to help you get in the mood. Kids and adults love candy so be sure to have lots of it. Keep the atmosphere spooky but happy. After all that's why we say
"Happy Halloween!"
---
Halloween Party Supplies and Halloween Decorations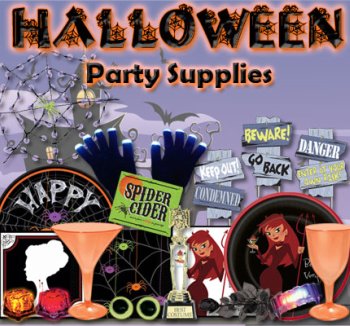 Outdoor
Jack-o-lanterns
Make your own grave site by using painted Styrofoam board or wood for tombstones
Have some artificial ravens and crows on top
Use cobwebs
Have dead looking hands reaching out of the ground
Place a pile of fake bones and a skull nearby
Witch's broom
Hang spiders
Hang some Skeletons and use plastic chains to tie them up
Make some hanging ghosts in trees or on the front porch

Use Little jack-o-lantern lights
On the front porch, take old clothes and stuff them to make it look like a real person. Put a mask on its head. Or make a Pumpkin scarecrow
Hanging bats
Black cat
Indoor
Dim the lights
Light black or red candles
Hang some cobwebs
Black and orange balloons
Glow in the dark skeletons
Dead flowers in a black vase
Make a cauldron with dry ice. Be sure to handle with gloves
Use an old candelabra with lit candles
Use Halloween themed table cloth, plates, cups, napkins, streamers (paper products work best)
Hanging bats
Hang some Slime
Use a fog machine for a cool effect
Have strobe lights
Homemade Coffin
Have a Crystal ball with a Genie or Gypsy
Black lights
Glow in the dark spookables
Indian corn
Mini pumpkins
Gourds
---
Popular spookable Halloween Costumes
Dracula
Wolf man
Mummy
Frankenstein
Freddy Kruger
Grim reaper
Goblins
Jason
Witch
Pumpkin
---
Halloween Party Games and Activities
Carve or Paint Pumpkins
Make a "Mummy". Divide all the players into two teams. Give each group a roll of toilet paper. Each team will pick one player to be the "Mummy". Be the first team to wrap a mummy using the entire roll of tissue.
Blindfold guests and have them reach their hand into an unexpected bowl full of:

Peeled grapes for eye balls
Cold Spaghetti for brains
Gummy worms for small intestines
Black string licorice rat tails
Black jelly beans bat droppings
Rake leaves into a big pile for jumping in
Paint your windows using window paint with spook pictures
Bobbing for Apples
Have a Mask Making station
Halloween coloring book or pages
Ouija board
Read some spooky stories
Make some Halloween cookies
Visit a Pumpkin Patch
Halloween scavenger hunt
Watch a Scary Movie!!
More Great Printable Party Games Including:
Spooky Horror Movie Trivia!
---
Halloween Party Food and Drink
Themed Punch bowls with Halloween Punch
Pumpkin pie
Pumpkin cookies
Apple cider
Hot chocolate
Popcorn
Roasted pumpkin seeds
Marshmallows
Pumpkin decorated cupcakes
Chips in Halloween bowls
Lots of candy and chocolate
Learn how to make a Spider Web Cake!


Witch Cake
---
Halloween Party Favors
Glow sticks
Goody bag full of treats
Colouring book and crayons
Stickers
Slime
Silly putty
Play Do
Pumpkins
Top Of Halloween Party Ideas

Share Your Halloween Stories!


Throw Your Own "Monster Party!"
Teen Party Ideas Adult Party Ideas |
Perfect Party Supplies Discount Newsletter |
Share Your Party Ideas Party Blog |
Site Map |