Hollywood Party Ideas
Red Carpet Party - Oscar Party Ideas
Do you dream of glitz and glamour? Have a night at the Oscars and host a Hollywood Party! Roll out the Red Carpet and have your guests dress as their favourite celebrity.


Give your guests V.I.P. treatment for a gala opening night as they do the Walk of Fame down Rodeo Drive or Sunset Boulevard. Attend the Academy Awards or Golden globe awards and become an A-Lister in your own home. Send out invitations as movie tickets or on gold paper. Make-up: check. Outfit: check. You're on in 3,2,1 Lights, Camera, Action!
---
Hollywood Party Supplies and
Red Carpet Party Decorations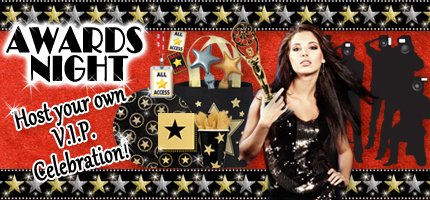 Upon Arriving
Have the Red Carpet leading up to your front door
Hire or ask people to be the paparazzi and take lots of pictures of your guests as they arrive
Use Spot Lights
Make a "Hollywood" sign
Have a guest book for autographs as your guests arrive
Use a Polaroid camera as they pose in front of White pillars set up for a pictures setting
Once Inside
Set up a dressing room or screening room- with pillows, bean bag chairs and candy or special favours
Have a floor length mirror for guests to check out their outfits
Hang movie posters
Make star prints
Lay out magazines with your favourite star on the cover, or make your own with you on the cover!
Make some star or awards Trophy
Hang pink streamers or film strip streamers
Set up a Microphone for speeches
Use a Directors chair
Directors Megaphone
Hollywood clacker
Confetti
Hang Balloons
Hang Gold stars
Use a Mirror ball
Tinkle lights on trellis or arbour or anywhere in the house
Set up an old film reel
Red and pink roses in a crystal vase
Use flower garland on the tables
Hang a crystal chandelier
Metallic Curling Ribbon from the ceiling
---
Hollywood Party Attire
Dress as your favourite movie star
Wear your fancy Red Carpet outfit
Top hat
Black tie
Feather boas
Diamonds
Necklaces
Earrings
Pair of metallic sunglasses
Pearls
Bag or purse with a small fake dog inside
---
Hollywood Themed Party Activities
Oscar Party Games
Entertain your fellow Celebrities with these fun
Hollywood Printable Party Games
With the video camera set up make your own movie or commercial
Have manicures and pedicures, hair, make-up, facials, and wardrobe stations for your guests to enjoy!
Karaoke
Have a Movie projector with movies playing
Hollywood trivia
Have your guests paint their hands and stamp it onto a star
Movie charades
---
Hollywood Themed Party
Hors d'oeuvres, Food and Drink
*Hire or ask people to be Severs or butlers and use silver platters
Shrimp cocktail
Cocktail weenies
Battered mushrooms
Mozza sticks
Calamari rings
Veggie tray with dip
Fruit try
Meatballs with fancy toothpicks
Caviar
Pate
Bite size Pizzas
Have a Popcorn machine and put the popcorn in theatre tubs
Hotdogs and chips
Nachos with cheese
Large soda
Sparkling white grape juice
Perrier water

Pink lemonade
Champagne in fluted glasses
Assorted Candy
Assorted chocolates
Designed cake or white cupcakes
Chocolate covered strawberries
Chocolate fountain
---
Hollywood Party Favors
Gift baskets
DVD's
Sunglasses
Fake jewellery
Movie posters
Chocolate
Candy
Bow ties
Picture frames
Gold pen
Fake Trophies or Awards
Champagne
Top of Page

Share Your Hollywood Party Ideas!


Perfect Party Ideas Home | Birthday Party Ideas | Kids Party Ideas | Teen Party Ideas
Adult Party Ideas | Seasonal Party Theme Ideas | Party Games | Party Supplies
My Secret | Contact Us | Privacy Policy | Share Your Party Ideas | Party Blog | Site Map
Party Links | Cake Ideas