Jungle Birthday Party

| | |
| --- | --- |
| | Host a roaring jungle birthday party by getting your guests to swing over and money around by using these simple party ideas to enhance your event. For a wildly successful event, invite all your jungle friends over for a fun filled adventure. Be ready to explore with your hat and binoculars as the safari begins. There are so many jungle animal species, including tiger, lion, giraffe ,and money, all of which are more than excited to be in the spotlight at your party.  |
Host a roaring jungle birthday party by getting your guests to swing over and money around by using these simple party ideas to enhance your event. For a wildly successful event, invite all your jungle friends over for a fun filled adventure. Be ready to explore with your hat and binoculars as the safari begins. There are so many jungle animal species, including tiger, lion, giraffe ,and money, all of which are more than excited to be in the spotlight at your party. 
---
Jungle Birthday Party Invitations
To make your own jungle birthday party invitations use animal print paper and cut out your favorite animal. Paste this onto construction paper or card stock paper to add some strength. On the front, write: "the king/queen of the jungle has invited you to celebrate _______'s birthday". Then, on the back write the details of your party (when, where, etc.). 
---
Jungle Party Decorations and Supplies
Use the color theme green, brown, and yellow
Have green cutlery and wrap them in yellow napkins with a piece of animal print paper holding it all together
Hang rope vines or green streamers with large construction paper leaves
Hang snakes from your ceiling
Put up lots of balloons or have a balloon arc
Have animal cardboard cutouts that the guests can get their picture with
Have explorer hats or cut out animal masks for party hats
Make a sign that says "time to explore" or"welcome to the jungle" or "born to be wild" or "wild and free"
Make a local zoo or animal reserve your party location
Host your party outside to be closer to nature 
Have animal stuffies of the main jungle animals, like the lion, giraffe, monkey, hippopotamus, etc.
---
Jungle Birthday Party Games and Activities

Visit a local zoo, animal reserve or safari place
Monkey on the Bed - Jump on a trampoline and make sure today no monkeys fall off.
Tarzan Says - Like Simon Says
Jungle Tag - Play touch and go, pretending that the "it" is a ferocious lion
Jungle Charades - Have pictures of different jungle animals. Have a player pick a card and act the animal on the card while others try and guess the animal.
Monkey, Monkey, Lion - Play like duck, duck, goose while playing jungle sounds or animal music
Tiger Bingo - Like regular bingo. Make the cards using jungle animal stickers (lion, monkey, rino, gorilla, etc.) and use peanuts in the shells as your markers (make sure there are no allergies

!

)
Snake race - Slither like a snake (be careful of grass stains)
Banana Slip & Slide - Yellow tarp with water and soap make a great slip and slide
Hippo Splash - Go swimming (have other parents there to help supervise their own children around water activities)
Ostrich Egg - Pass back and forth water balloons, each time you are successful backup one step to make it more challenging 
Lion Taming - Set up an obstacle course
Make Animal Binoculars - Take two toilet paper rolls or cut up paper towel rolls and tape them together. Then, tape a piece of animal print colored paper around. Finish by hole punching each paper roll and tying a string for the neck strap. 
Feed the Elephant - Similar to cornhole, have a wooden board with a painted elephant with its mouth open and a hole to throw balls through.
---
Jungle Party Food

Peanut butter and banana sandwiches (make sure there are no allergies)
Snakes - have gummy worms and have a sign that says "Snake Pit"
Rainforest fruit tray - have a multicolored fruit tray
Cupcakes or animal shaped cake (on cupcakes you could to with plastic jungle animals and insects)
Jungle themed candy bar
Fruit punch called "Jungle Juice"
Lion veggie tray - in the middle have a small bowl with sauce and crackers for ears, around have cut up strips of red, orange, and yellow bell peppers to make the lion's mane. 
Monkey food – have bunches of bananas 
Watering hole - have a tin bucket filled with ice, water, and juice
Animal crackers
Sticks - have the stick pretzels




Jungle Cake
Shared by Kathy

Peanut butter and banana sandwiches (make sure there are no allergies)
Snakes - have gummy worms and have a sign that says "Snake Pit"
Rainforest fruit tray - have a multicolored fruit tray
Cupcakes or animal shaped cake (on cupcakes you could to with plastic jungle animals and insects)
Jungle themed candy bar
Fruit punch called "Jungle Juice"
Lion veggie tray - in the middle have a small bowl with sauce and crackers for ears, around have cut up strips of red, orange, and yellow bell peppers to make the lion's mane. 
Monkey food – have bunches of bananas 
Watering hole - have a tin bucket filled with ice, water, and juice
Animal crackers
Sticks - have the stick pretzels
Jungle Cake
Shared by Kathy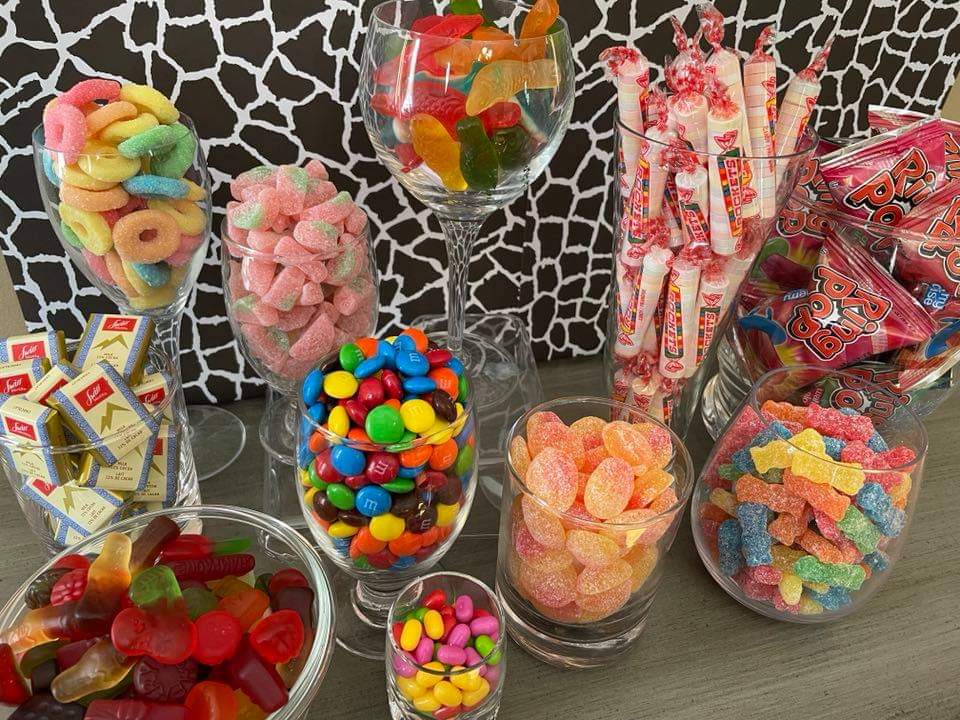 ---
Jungle Theme Party Favors

Animal crackers
Binoculars
Jungle themed stickers and jungle book
Adopt a jungle friend - have stuffed animals of multiple jungle animals and have the guests choose their favorite
---
Related Party Ideas