Kentucky Derby Party Ideas
137th Kentucky Derby May 7th, 2011

Host this years Kentucky Derby Party! The first Saturday of May is always reserved in my heart for the annual Kentucky Derby! Held in Louisville, Kentucky, it is the best mixture of class, fashion, money and sports.
---
Kentucky Derby Party Supplies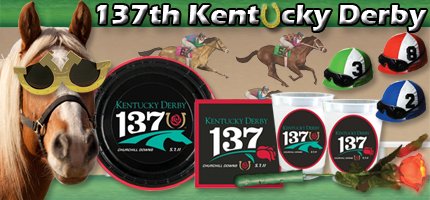 Officially licensed 137th Kentucky Derby Party Supplies
Use the colour theme black, white and turquoise
For the "Blanket of Roses" Decorate with an plethora of Roses. They are beautiful and smell fantastic
Play and sing the song "My Old Kentucky Home"
Have horse shoes scattered for good luck!
Have extra hats! They are a must at the Kentucky Derby
Make booklets with information about the horses. Stats, history, colours, etc.
Use horse figurines or Jockey Hats for the centerpiece
---
Kentucky Derby Attire
The Kentucky Derby is a fashionable event. Wear a trendy new spring dress and of course a large beautiful hat. Don't forget the shoes, something sleek and sexy.

For the man, dress in a classic suit. Appear to be a high roller. (if you aren't already!) Wear a Black Fedora Hat
For kids, it would be fun to rent or buy slip on Horse Costumes where it looked like they are riding the horse.


---
MY OLD KENTUCKY HOME
By Stephen Foster
The sun shines bright in the old Kentucky home, Tis summer, the people are gay; The corn-top's ripe and the meadow's in the bloom While the birds make music all the day.
The young folks roll on the little cabin floor All merry, all happy and bright; By'n by hard times comes a knocking at the door Then my old Kentucky home, Good-night!
Weep no more my lady. Oh! Weep no more today! We will sing one song for my old Kentucky home For the old Kentucky home, far away.


---
Kentucky Derby Party Food
The Mint Julep. An iced drink:bourbon, mint and a sugar, served in souvenir glasses printed with Derby winners

2 cups of sugar
2 cups of water
Sprigs of fresh mint
Crushed ice and whisky of your choice

Raspberry / Strawberry punch (non-alcoholic)
Beer. Have a wide variety of foreign and domestic
Serve finger foods
Strawberry and fruit tray
Vegetable tray
Shrimp with sauce
Warm mozzarella sticks
Nuts with a cracker (make sure there are no nut allergies)
Homemade pie with whip cream


Horse Cake
---
Kentucky Derby Favors
Give Roses away to your Guests as a Thank you for coming!



Share Your Kentucky Derby Party Ideas

Fun Party Games


Teen Party Ideas Adult Party Ideas |
Perfect Party Supplies Discount Newsletter |
Share Your Party Ideas Party Blog |
Site Map |