Magic Party Ideas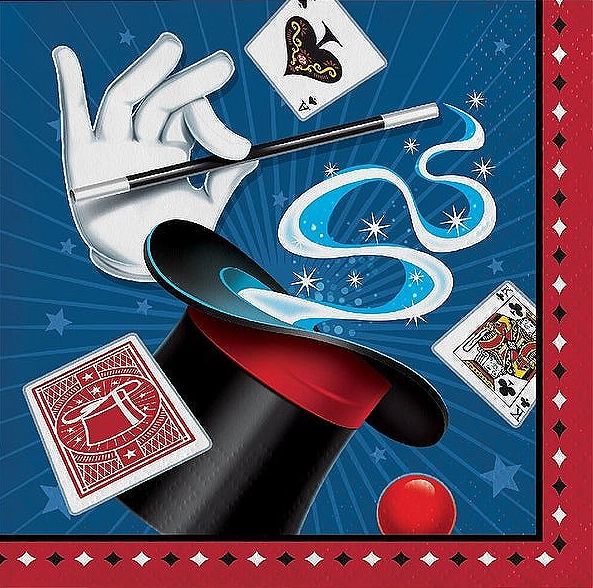 Hocus Pocus! This Magic Party is the mostest! What fun … the combination of magic, intrigue, and the unknown. This party will be memorable because the guests will see some Presto chango surprises that they have never seen before. Have fun planning and hosting your Magic Birthday Party.
---
Magic Party Invitations

Make your own by making top hats with cardstock. Make the top hats into pockets. Coming out the top hat will be the invitation, cute if it looked like a white bunny (write on the computer or on a recipe card). Write a cute saying like,

"With a tip of the hat … there will be magic and dreams come true at ___'s birthday party".
On the back side write all the important magical birthday information (time, place, RRSP, etc.) Attach a homemade thank you note onto the loot bag. Say something cute like.
"Hocus Pocus thanks for making this party the mostest!"
---
Magic Party Supplies and Decorations

Use the colour theme blue, purple and silver

Hang stars streamers
Hang stars from the ceiling. Make them with cardstock paper or cardboard. Spray with spray paint, and add glitter line around the outside
---
Magic Birthday Party Games and Activities

Get a magician hat for all the guests and have them decorate them with sticker jewels
Have a magician come to your home to perform
Give all the guests magic wands and teach them how to say some magic words (e.g., abracadabra, alakazam, lit flit, latt flight, shazam, sim sala bim, etc.)
Perform some card tricks
Watch a magical movie. Look at the age of the guests. Harry Potter, Fantasia, etc.
---
Magic Birthday Party Food

Use Plastic Top Hats to hold snack foods
Make a Magic Birthday Cake. Make a top hat and have bunny ears coming out the top
Magic Cupcakes decorated with stars
---
Magic Theme Party Favors

Trick cards
Top Hat
Magic Wand
Magic Tricks