Masquerade Party

| | |
| --- | --- |
| | There is nothing more exciting than a party full of surprises. A masquerade party is full of anticipation – deciding what formal wear to wear, your mask design and trying to figure out who everyone is throughout the evening. A masquerade ball is just like an old fashioned elaborate ball, but with a fun modern twist. It's a fun party to host year round. |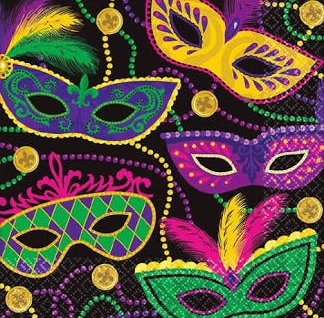 There is nothing more exciting than a party full of surprises. A masquerade party is full of anticipation – deciding what formal wear to wear, your mask design and trying to figure out who everyone is throughout the evening. A masquerade ball is just like an old fashioned elaborate ball, but with a fun modern twist. It's a fun party to host year round.
---
Masquerade Party Invitations

Create your invitation on your computer and print on old fashion looking paper. Roll the invitation and close it with a decorative seal. Hand deliver the invitation wearing a mask.
"Behind every mask is a story"
---
Masquerade Party Decorations

First decide where the party will take place. At your home or will you rent a ballroom.
Masquerade Ball Party Supplies -napkins, plates, cups, table cloth
Use the color theme purple, pink and silver or gold
Masquerade Masks
Vip entrance sign at the beginning of a red carpet
Decorate to look like an old classic castle
Elaborate large flowers and multi armed candelabras for candles
White twinkle lights (on a dimmer)
Signs "a masquerade to remember", "a night to disguise", "so fancy"
Extra large decorative masks - you can make these out of cardboard or a thin wood. Paint and add embellishments like jewels and crystals.
For extra table decorations spray paint multiple sized bottles, spray on a glue and add glitter to the bottom and on the top add some large feathers
Have wide topped martini glasses filled with clear glass beads and topped with a small mask
If you have tall clear vases, add 5 or 6 strands of gems to the top. This way you can fill will anything.
Add a disco ball, dance party lights and a fog machine
---
Masquerade Ball Games and Activities

Who am I

?

Make the party at the beginning a silent party. Have the guests try to figure out who everyone is and write their guesses down. Whoever has the most correct guesses wins a prize.
Wine or Whine

?

Have samples of real wine and samples of the homemade version. Have your guests sample and see if they can tell the difference between the two types.
Gifting Flower - Hire a relative or neighbor child or teen to dress up and 'sell' (give away flowers to guests)
Ballroom Dancing Anyone

?

Have some formal dancing time. Try near the beginning of the evening when people are guessing who everyone is. Their dancing may give their disguise away.
Masquerade Photo Booth - Have a golden swag for the backdrop and add silver, white and gold balloons around the sides and floor. Have a table with candelabras and a chandelier hanging. Add some large flowers to hold and play with. This way it will look like it is flowing. You want your guests glam and masks to stand out in the photos.
Design your own mask - Have lots of crafting materials for your guests to decorate their masks.
Celebrity Guess Who

?

Find pictures of celebrities from the red carpet. Then add small cute masquerade masks to cover their eyes. Have your guests play a guessing game to guess who the celebrities are.
Masked Karaoke - Get your guests up to sing their hearts out. They may be more adventurous with their identity being hidden. 
Masquerade scavenger hunt - Tell your guests that there was a robbery and you need their help. You need them to help find hidden glass diamonds that have been hidden throughout the party area.
Celebrity Taboo - Have all of your guests write the names of three celebrities on individual pieces of paper. Then add them into a top hat. Divide your guests into smaller teams. From the top hat your guests need to select one celebrity at a time and have people try to guess who it is. See how many each guest can guess within a certain determined period of time, like everyone had a minute. Keep tallies to see which team can guess the most.
Murder Mystery

?

Who really who did it

?

The masquerade theme is well equipped to combine with a murder mystery party because there are so many unknowns of who people are at this party. 
---
Masquerade Ball Food

Finger foods are essential being that your guests are wearing masks. Charcuterie boards are a must. Have them for cheese, nuts, fruit, veggies, meats
Pinwheels and mini finger sandwiches
Foods on skewers - both short bite sized and larger wand like
Wine / beer / cocktails - have lots of different types of glassware, especially different shapes and sizes of crystal glasses
Multiple non-alcoholic punch with fruit
Chocolate sweets. Set up a chocolate fountain station (with assorted fruits to dip)
Sugar cookie masks
Chocolate covered strawberries
Dense chocolate cake or brownie with a single raspberry on top. When plating add a swizzle of chocolate and caramel sauce, then add the brownie and raspberry and sprinkle with powdered sugar.