Masquerade Party Ideas
Mardi Gras Party Ideas

There is nothing more exciting than a party full of surprises. A Masquerade Party is full of anticipation – deciding what to wear for your costume; and trying to figure out who everyone is throughout the evening. A Masquerade Ball is just like an old fashion elaborate ball, but with a fun modern twist. It's fun year round or for a Mardi Gras Party!

---
Masquerade Party Invitations
Create your invitation on your computer and print on old fashion looking paper. Roll the invitation and close it with a decorative seal. Hand deliver the invitation wearing a mask!


Enjoy these FREE Printable
Mari Gras Party Invitations
---
Masquerade Ball Decorations
Mardi Gras Party Supplies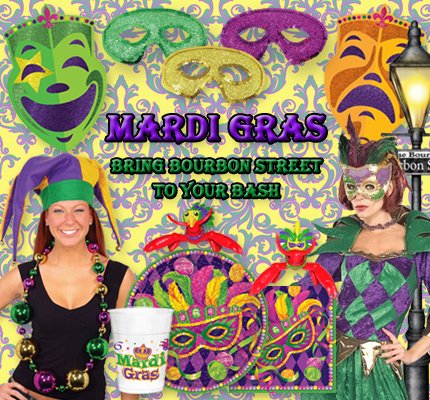 First decide where the party will take place. At your home or will you rent a ball room.
Masquerade Ball Party Supplies -napkins, plates, cups, table cloth
Use the colour theme purple, green and gold
Masquerade Masks
Decorate to look like an old classic castle
Elaborate large flowers and candles
White twinkle lights (on a dimmer)
Chocolate fountain table
Set up card tables like Monte Carlos Style
---
Masquerade Ball Games and Activities
Who am I? Make the party at the beginning a silent party. Have the guests try to figure out who everyone is and write their guesses down. Whoever has the most correct guesses wins a prise.



Wine or Whine? Have samples of real wine and samples of the homemade version. Have your guests sample and see if they can tell the difference between the two types.



What is your Fortune? Have a fortune teller present at the party to tell guests little tidbits about their future.



Strolling Musician Hire a musician to walk amongst your guests and serenade different groups of people.



Flower Girl Hire a relative or neighbour girl to dress up and 'sell' (give away flowers to guests loved ones)



Ballroom Dancing Anyone? Have some formal dancing time. Try near the beginning of the evening when people are guessing who everyone is. Their dancing may give their disguise away.



Cards Anyone? Friendly gambling could take place at your Monte Carlo gambling station. (Casino Party Ideas Here)



Murder Mystery? Who really who did it?



---
Masquerade Ball Food
Finger foods are essential being that your guests are wearing masks!
Wine / beer / cocktails
Non-alcoholic punch
Chocolate sweets. Set up a chocolate fountain station (with assorted fruits to dip)
Share Your Masquerade Party Stories and Ideas Here!

More Fun Adult Party Themes


Perfect Party Ideas Home | Birthday Party Ideas | Kids Party Ideas | Teen Party Ideas
Adult Party Ideas | Seasonal Party Theme Ideas | Party Games | Party Supplies
My Secret | Contact Us | Privacy Policy | Share Your Party Ideas | Party Blog | Site Map
Party Links | Cake Ideas