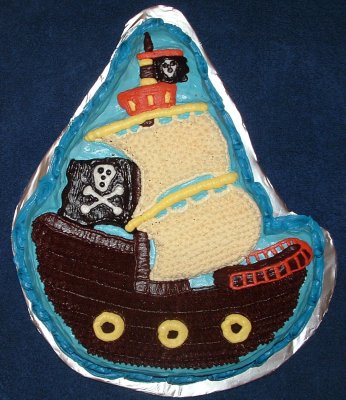 Recently I made this cake of a Pirate Ship. It was a real hit with the kids. After this cake was all finished I was thinking that this same pan (the Wilton pirate ship pan) would make a great sailboat cake or just a regular boat cake). For our theme I thought that the pirate ship would be perfect.

I used the Wilton Pirate Ship Cake pan. I sprayed it really well with a non-stick spray. The cake was a chocolate cake. Once it was cooled for about ten minutes I cut off the bottom with a large serrated knife, using the cake pan as a guideline. After the bottom was cut (to make the cake level) I placed a cooling rack onto the pan and flipped it over. I then let the rest of the cake cool completely.

First I iced the outside of the cake with a lighter blue water color. I used a large tip # 789. This large tip helps to ice the outside of the cake so quickly, there are no crumbs and there is equal amount of icing. Next I used a small tip (#5) to pip in all the rest of the blue. Then I iced all the chocolate areas (using a tip #12 for the beams, #3 for the lines on the bottom of the boat and #18 for the bottom of the boat). Next I made some orange/red colored icing for the railing, and at the top of the boat). Again I made a cream colored icing for the sails (I used a vanilla icing, but a buttercream color would be great). I used the tips # 5 and #16 for the sails. To make black icing, use chocolate icing for the base and then add black dye.
For the small details on the top side of the boat and pirate flags I used a small tip any from tip size 1-7 would work. Then to smooth out some area dip your finger in a mixture of cornstarch and water. Around the outside of the cake I love the wave look. I used tip #21 and made then similar to a shell design. I squeezed the icing creating a thick top to the wave and then wooshed it around to make the complete wave. This wave was done in a darker blue to stand out. The pirate ship cake looked amazing for all my pirate fans.