Scavenger Hunt Party Games
| | |
| --- | --- |
| | At all ages people enjoy types of scavenger hunt party games. Younger participants love to hold a clipboard with the items they are searching for, especially if they are wearing binoculars. As people mature they are able to set out on larger hunts throughout communities, malls, and really the world to help solve these hunts. Let your imagination go wild while planning and playing your unique scavenger hunt.  |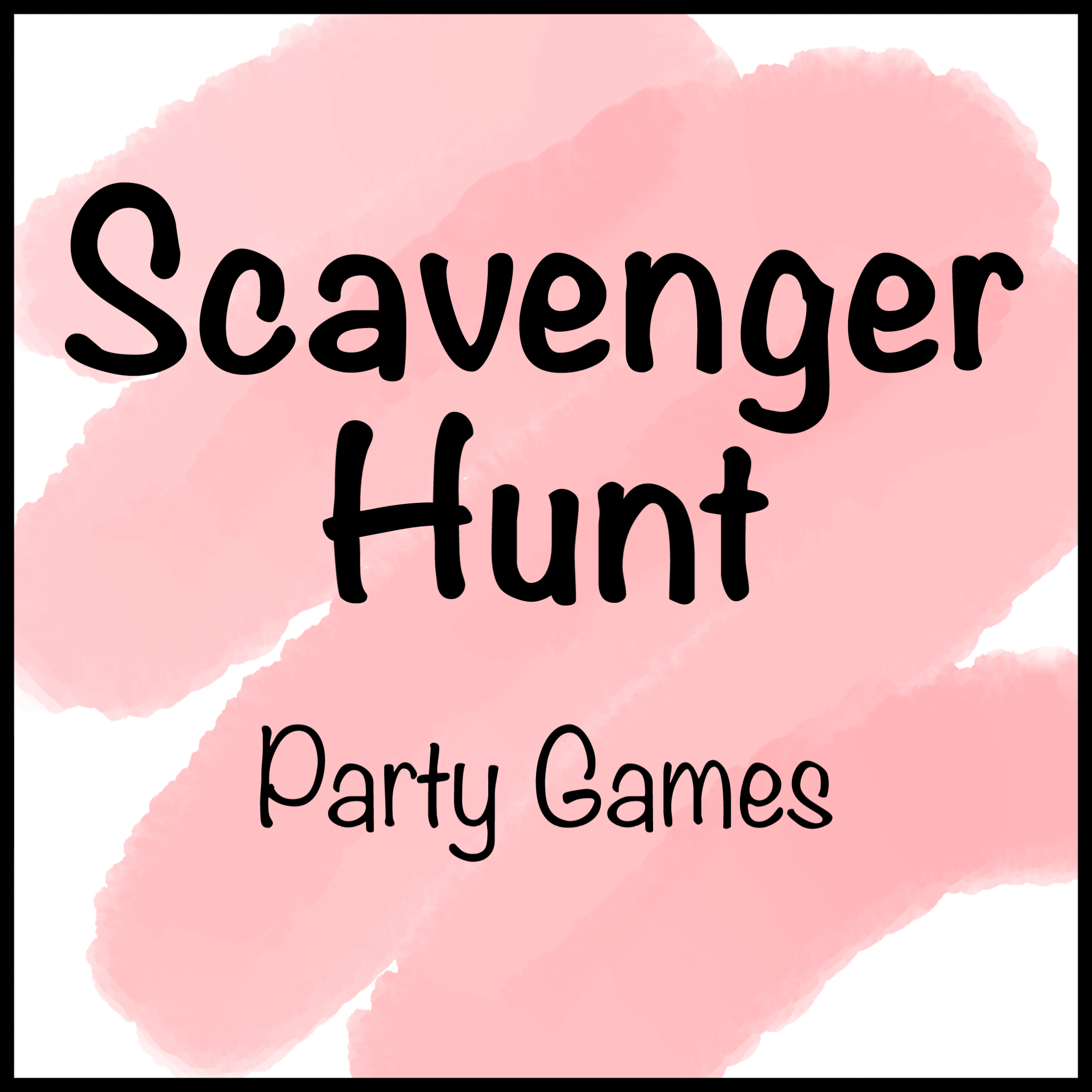 At all ages people enjoy types of scavenger hunt party games. Younger participants love to hold a clipboard with the items they are searching for, especially if they are wearing binoculars. As people mature they are able to set out on larger hunts throughout communities, malls, and really the world to help solve these hunts. Let your imagination go wild while planning and playing your unique scavenger hunt. 


---
Burglar Alarm Game (Time Bomb)

Ages: 5 and older
Objective: Find a hidden timer before the alarm goes off
Players: 2 or more
Materials: Timer and flashlight
Rules: Have all of the guests leave the room. One person stays in the room and then sets and hides a small timer (like an egg timer). Once set, have all the other guests come back in and try to find the timer before it goes off. Whoever finds the timer wins and gets to hide it the second time around. If the timer goes off before anyone finds it, the person who hid it gets the prize. Another fun way to play is in a dark room using flashlights.

---
Capture The Flag

Objective: To retrieve your flag and safely return it to your side of the playing field
Players: 8 or more players
Rules: Divide the players into two teams. Each team gets to hide their flag. When the flag is hidden it needs to be visible if you are in the area (e.g., it can't be buried in sand). There needs to be a middle boundary set. When play begins players are able to go anywhere in the playing surface. If they cross to the other team's area they might be caught (this is like freeze tag - just sit and a teammate can free you). Your goal is to get the other team's flag and bring it back to your side without being caught. If you are tagged bringing the flag back, the other team will put their flag back in the original spot and you sit frozen. While running with the flag you are able to toss it to another teammate for them to continue the run.
If you have a lot of players you may wish to have 2 or 3 flags. If your players are younger you may wish to put a free zone around the flag so they can catch their breath and create a plan to get the flag back.

---
Ring Toss

Ages: 10 and older
Objective: Find your teams flag and return it safely to your side of the playing court
Players: 6 or more
Materials: Flags to be found, pylons for boundaries
Rules: Divide all the players into two teams. One team will be team A and the other Team B. Each team needs a home base (meaning a shelter) at different areas of the playing field. One of the teams will hide an object like a flag (I often use something heavy so it doesn't blow away). The team that will be trying to find the object will have to wait in their shelter until the other team hides the object. Once the flag is hidden, the team that is trying to find the object will go in search for the hidden object. If someone finds it, they will have to run back to their home base without getting caught from the other team members that hid the object. Once the flag is safely found and returned to the base, it is the other teams turn to hide the flag.

---
Lost And Found

Ages: 6 and older (kids party games)
Objective: Lost and found is a game where teams verbally help a blindfolded member to try to find scattered objects.
Players: 4 or more
Materials: Blindfolds, various toys or objects
Rules: Blindfold one member of each team. Scatter the objects evenly on the playing field. State one of the items to find. Announce other players to begin giving verbal instructions to help their blindfolded teammate. Once the player finds the correct object they must bring it back to their team. The next member will then wear the blindfold, spin three times and try to retrieve the next item called. First team to retrieve all the objects wins this version of scavenger hunt party games.

---
Scavenger Hunt Party Games

Objective: To find a list of hidden objects around the yard.
Players: 4 or more
Materials: List of objects or hidden treasures
Rules: This is a fun game to play at any age but, it does take a little organization and planning. It can be played indoors or outdoors depending on what is on your scavenger hunt. Depending on the age of the players, choose how difficult the challenges will be. Before the game begins, pick objects outside for players to find. This can be done two ways. Either have a checklist of items to find and once the player has found it they check it off their list. Or the other way is the players must physically find and take the object with them that are on the list. Have enough of the same object for every player to take with them. Once players have found every item on the list they must make their way back to the judge to see if they are the winner. The first player to find everything wins. For large groups you can divide the player into teams. For theme parties choose items that are theme related.

Some ideas for scavenger hunts:
Photographs scavenger hunts - either taking pictures of your guests performing all the activities or searching their online photos to find past events.
Mall items scavenger hunts - search the mall for items often found in the different stores, sales, posters, etc.
Clue based scavenger hunts - follow different clues at each step to reveal a present or prize for everyone.
Neighborhood scavenger hunts - scour your neighborhood to find all the items that are typically found in a neighborhood.
Nature scavenger hunts - go to a nature reserve or park and search for items found in nature.
Holiday themed scavenger hunts - these are too many holidays and special event days celebrated throughout the world to list them all. Think of all the items that make you think of these memorable celebrations.
Grocery store scavenger hunts - hunt for specific foods, then make the different dishes. Yummy scavenger hunt.
Family reunion scavenger hunt - think of all the wacky unique things that people can do. Search your talented relatives to see who can meet the criteria to complete the scavenger hunt.
Thought provoking scavenger hunts - solving a mystery and travel might be part and parcel to this scavenger hunt.
Amazing race scavenger hunt - you need to figure out where to go, perform a task and get your next clue. 
Escape room style scavenger hunt - solve mysteries and clues to complete this scavenger hunt.
Destination scavenger hunt - at the beach, at the campsite, on the boat, at Disney, on vacation, etc.