Stranger Things Party
| | |
| --- | --- |
| | This is a trendy, yet classic themed party. The Stranger Things show has so many classic ideas rolled into one. There is the mystery of the unknown, science fiction of the underworld, supernatural elements mixed with horror and drama all mixed into one. It is to become a classic that you will remember fondly and that is the same with this Stranger Things party you are going to be hosting.  |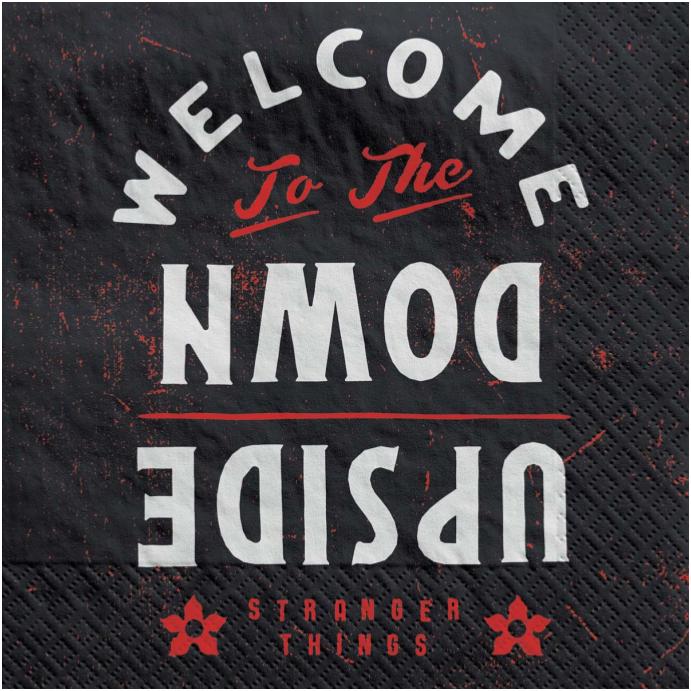 This is a trendy, yet classic themed party. The Stranger Things show has so many classic ideas rolled into one. There is the mystery of the unknown, science fiction of the underworld, supernatural elements mixed with horror and drama all mixed into one. It is to become a classic that you will remember fondly and that is the same with this Stranger Things party you are going to be hosting. 
---
Stranger Things Party Invitations
On your party invitations have the logo Stranger Things. Then under light the following words, just like Stranger Things. "Welcome to Hawkins. Are you ready for the unimaginable?"  
---
Stranger Things Party Decorations
Outside of your front door hang a sign saying "Welcome to Hawkins" and have caution tape that you guests need to maneuver around to get inside.
When entering your party, look like you are entering a quarantine room. Hang up large sheets of painters clear floor coverings. At the edges of the plastic sheets cover them with red painters or duct tape. And then hang a quarantine poster.
70s and 80s themed colors, clothing, and furniture:
Colors - browns, oranges, yellows, multiple muted earthy tones
Clothing - simple, realistic 80s clothing that people would have worn everyday
Furniture - look at consignment shops or online for an old 80s brown plaid couch, swivel rocking chairs, and a braided carpet. Add to it a card table for playing games, an old record player, box large television with rabbit ears. Set the stage and create the whole room. This would make for an amazing party room.
Lighting - string christmas lights around the room.
Walkman and ghettoblaster 
Set the stage for your party food or for a photo booth. Make a wood panel backdrop and write the letters of the alphabet on it. Then add Christmas lights above each of the letters.
Hide the number 11 in a few places. See who notices and maybe they win a small prize.
Write the alphabet on multiple helium balloons. If you use white balloons, then you can simply use a black sharpie marker after they have been blown up.
Random missing person poster of Will 
Create an underworld room. Tape up dark tablecloths, have black streamers hanging from the ceilings, and wrapping around some pool noodles along the walls.
---
Stranger Things Games & Activities
Watch the movie Poltergeist. 
There are two options to choose from. The original is from 1982. It is a classic haunted house movie. This is the movie that Will's mom got tickets for her and Will to watch. The second version is a remake of the original. It was filmed in 2015. If you want your party to be from the 80's themed then I would probably go for the original.
Movie set up would work well both inside or out. If outside it needs to be in the dark. Hang a sheet and use a projector if you don't have a projector screen.
Set up old fashion lawn chairs or even set outside old couches that are from the 80s. Look at second hand sites often you can get these for next to nothing.
Play the game Dungeon and Dragons. It is a game about fantasy role playing, that the boys were playing in the first episode and the last time they were all together before Will disappeared.
Cross over to the Veil of Shadows - create a tightrope that you and your guests have to cross to get to the parallel universe. Try to save all of your fallen friends from the veil of shadows and then try to return before getting discovered and trapped in the other dimension.
Go on a mission to find "the gate" - use compasses to follow directions to find a hidden item. Make sure you understand how to find the true north so that you don't get lost.
Play old 80s arcades games - set up a tournament style between multiple players and multiple games. Predetermine what scoring system you want to use. Often we use 3 points for a win, 2 points for a tie and 1 point for participating. This way all the guests are earning points at all of the games.
Cup games - set up centers all around the party. One game in each different area. Again if you wanted you can set up a mini tournament and point system. 
Create your own film by creating the mood, suspense and atmosphere of the unknown just like we all experience while watching Stranger Things. If possible use an older video camera. Follow your crew around and try to solve a mystery. Often it's the reality of their films that add to the scary effect. Not necessarily having everything in the film view, nervous characters, darkness, the realistic unknown. 
Friends Don't Lie - make friendship bracelets. Have an assortment of DMC embroidery floss, beads, etc. 
Play old records on a real record player
---
Stranger Things Party Food
Mini sandwiches
Eggos or step it up to a belgium waffle bar. Either way have lots of toppings, like strawberries, blueberries, whip cream, and different syrups
Burger and french fries
Flower shaped pizza 
3 Musketeers chocolate bars
Dr. Pepper
Red punch with fruit
Make cupcakes with a swirl of icing on the top, a ring for Christmas lights and have the lights be m&ms or other small sprinkles or edible beads
Make a simple slab cake. Decorate it with stringed Christmas lights (use M&Ms) and with piping write out the alphabet 
---
Stranger Things Party Favors
Friends don't lie friendship bracelets or necklaces
Slingshot
80s ball cap
Flashlight