Tea Party Ideas

You are cordially invited to our Tea Party ideas. Every little girl loves having tea with her little dollies or stuffed bears. Why not host a real tea party and invite her friends for a brunch or afternoon tea, or a backyard tea picnic in a gazebo.



Have everyone dress in their prettiest tea apparel, and have Dad or brother be the butler. Serve with your finest china, (or plastic tea sets for the little toddlers) and decorate with the utmost detail. Snack on delicious finger sandwiches and tea cakes for dessert. With pinkies up, how would you like your tea? Cream and Sugar?


---
Tea Party Invitations
Use pink card stock and cut and clue little flowers or tea pots
Make a heart-shaped invitation
Write: "You are cordially invited …" or "I'm a little tea pot, short and stout …"
Use an Alice in Wonderland theme and write: "Not to be late for a very important date!"
Use or make a sunflower picture or use a stamp
Write some nice poetry
---
Tea Party Supplies and Decorations
Lanterns
Twinkle lights
Candles
Streamers and balloons
Pink Silk flowers
Chairs decorated with pink or white satin slip covers
Matching cushions
For a centerpiece use little flower pots or vase with a daisy or rose
For a Picnic use a Quilt
---
Table Settings For A Tea Birthday Party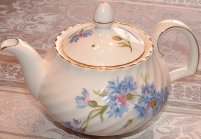 If you do not own fine china, check out your local thrift shop or antique stores to find great bargains on real porcelain or china dishes and cups. You can pick from a variety of patterns however, the rose or flower pattern is most popular. You will need the following:
2-4 Tea pots depending on how many different drinks are available
Enough tea cups and saucers for everyone
1 or 2 sugar bowls
1 or 2 creamers
Dessert plates
Lunch plates
Serving silverware and spoons
Serving dishes for food and dessert
White or pink tablecloth
Tied or folded matching napkins
---
Tea Theme Party Attire
Pretty dress with tights
Elbow-length white tea gloves
Little purses
Victorian or pink straw hats
Long pearl bead necklace and bracelets
Feather boa
Earrings
Tiara
Fancy shoes
---
Tea and other drinks
Raspberry tea
Peach ice tea
Orange tea
Earl gray
Iced tea
Hot chocolate
Pink lemonade
Juice
---
Tea Party Food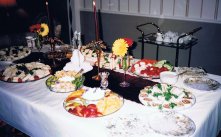 Dessert

Cake with white butter cream frosting and pink trim
Chocolate covered strawberries and cherries
Pink cupcakes
Candied flowers
Cookies
Assorted chocolates
Brownies
Mini muffins
Cheesecake
Apple Pie
Chocolate layered cake
Squares
Finger sandwiches or wraps
Cucumber
Egg salad
Turkey
Peanut butter and jelly
Cheese sandwiches
Ham and cheese
Chicken salad
Fruit
Strawberries
Blueberries
Cantaloupe
Grapes
Pineapple
Other
Sugar cubes
Cream or milk
Fruit salad
Pasta salad
Veggie tray
---
Tea Party Games and Activities
Have a vanity or table set up for makeup, or a manicure and pedicure
Have a decorating and craft station set up for making hats and jewellery with all kinds of fake flowers, ribbons, feathers, buttons, jewels and beads
Paint some flowers and hearts on their faces
Have the girls do a fashion show
Give a lesson in manners and tea etiquette
Pin the handle on the teapot
Lawn croquet
Chess or checkers
Read poetry or a story
End the party with a Ballroom Formal dance
Card Game
Broken Telephone
---
Tea Birthday Party Favors
Miniature tea set
Lip-gloss
Hair accessories
Bracelets with tea pots charms
Bubble Bath, oils and soap
Journal or diary
Flower boa
Top Of Page

Share your Tea Party Ideas!


Teen Party Ideas Adult Party Ideas |
Perfect Party Supplies Discount Newsletter |
Share Your Party Ideas Party Blog |
Site Map |