Thanksgiving Party Ideas
"Celebrate this year with a Thanksgiving Party!"

It's a wonderful time of year as the seasons change, the leaves are colorful and the air is crisp. Once I begin to see these changes I know it is time to get ready for Thanksgiving. This means we get to bring in all those warm fall colors indoors and decorate with accents of candles, pillows, bathroom towels, curtains and a Thanksgiving centerpiece. But above all, we get to warm the house with delicious smells from the kitchen!
Thanksgiving Decorations
Thanksgiving Party
For a Thanksgiving centerpiece, use an extra large cornucopia (large brown basket that lays on its side, with a large opening on one side and tapers to a point). Place a fall colored tablecloth on your table in a solid fall color. Place you cornucopia in the middle of the table and fill the bottom with raffia, leaves and branches (I collect from the wild), next place the gourds and then hand place in some fall colored flowers.

If you're looking for a few more ideas, be sure to get your house ready with some of these other fun themed Thanksgiving Decorations!


---
Thanksgiving Craft Ideas
Thanksgiving Party
Hand Painted Turkey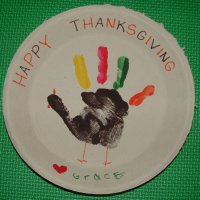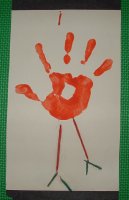 For this craft you want a nice piece of paper, a couple paintbrushes, a couple colors of paint, 1 spaghettini noodle, white glue and 2 google eyes.
Get your child to hold out their hand and paint the palm of their hand and their thumb brown. Next, paint the fingers different colors (e.g., red, orange, yellow, and green). With help, place the child's hand onto the paper. Push gently on the paper transferring the paint onto the paper. This created the body of your turkey. To add the legs, break the spaghettini into tiny pieces (one for the legs and 3 for the feet). Glue the pasta onto the painting. Then, glue the google eyes onto the head. To add a beak I like to use a small orange triangle from construction paper. Glue on the beak. To finish off the turkey craft use the stick end of a paint brush and dip it into red paint. Place this under the beak and pull, this will create a fantastic waddle.
Thankful Turkey
For this craft you need construction paper (in fall colors), glue, and a black marker.
Draw and cut out the shape of a turkey with brown construction paper. Next, cut out some feather for your turkey in fall colors (e.g., red, orange, yellow, etc.). Remember to make the feather wide enough for writing and to glue onto the turkey craft. Next, neatly write on the turkey "Child's name" is thankful for … . On the feathers write what the child says they are thankful for. Glue on the feathers and draw on a turkey face.
Create a Hat there are three types of hats that can be made: Indian, Pilgrim, and turkey. Use all construction paper to make the hats. Use a long rectangle to go around the head and then add the features onto the front of the hats. Hint only use tape or glue, you don't want staples to scratch a face or pull hair.
---
Thanksgiving Activities and Thanksgiving Games
Thanksgiving Party
Thanksgiving Bingo Create your own Bingo cards and across the top call it THANKS. Within the boxes use thanksgiving stickers for all the themes. Look for stickers with turkeys, cornucopias, corn, pilgrims, Mayflower, Indians, pumpkin pie, gourds, etc.



Pin the Gourd in the Cornucopia play like pin the tale on the donkey, except use pictures of fall foods to be thankful for and pictures of gourds.



Catch the Turkey play like freeze tag. The wild turkeys are trying to escape before they are eaten for Thanksgiving dinner. Have 2/3rds of the kids be turkeys and 1/3 trying to catch them.



For a Fun Family Treat, Play these entertaining
Printable Thanksgiving Party Games!
---
Thanksgiving Quotes
Thanksgiving Party
"As we express our gratitude, we must never forget that the highest appreciation is not to utter words, but to live by them."
~John Fitzgerald Kennedy

"For each new morning with its light, For rest and shelter of the night, For health and food, for love and friends, For everything Thy goodness sends." ~Ralph Waldo Emerson

"On Thanksgiving Day, all over America, families sit down to dinner at the same moment - halftime."
~Author Unknown

"We give thanks for unknown blessings already on their way." ~Author Unknown

"A thankful heart is not only the greatest virtue, but the parent of all the other virtues." ~Cicero

"Nothing is more honorable than a grateful heart." ~Seneca

"Thanksgiving is an emotional holiday. People travel thousands of miles to be with people they only see once a year. And then discover once a year is way too often." ~Johnny Carson


---
Thanksgiving Poems
Thanksgiving Party
Here are some poems that I remember from my childhood and my children also think are cute. They are great to read and sing, and we also sometimes write them Thanksgiving greetings to friends and family.


Thank you
Thank you, thank you
Let's all sing.
Thank you, thank you
For everything.

Thanks for the flowers,
Thanks for the trees,
Thanks for the sun that shines on me.

Thank you, thank you
Let's all sing.
Thank you, thank you
For everything.


The First Thanksgiving
When the pilgrims came to this new land.
They met the natives and shook their hands.
They had a feast with turkey and corn,
And that was when Thanksgiving was born.


Five Fat Turkeys
Five fat turkeys all in a row.
The first one said, "Where shall we go?"
The second one said, "I really don't care."
The third one said, "I smell dinner in the air."
The forth one said, "Thanksgiving Day is fun!"
The fifth one said, "Thanks giving? Let's RUN!"
Then "Whooo!" went the wind,
And "Swish!" went the snow.
And the five fat turkeys ran off in a row!


---
Thanksgiving Desserts
Thanksgiving Party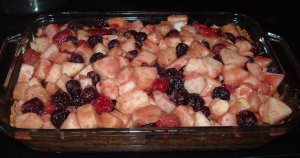 Graham Cracker Crust Apple Crisp
Apple Pie
Pumpkin Pie
Graham Cracker Crust Apple Crisp
Turkey Shape Cake
Click Here for some Football Fun

More Seasonal Parties

Share your Thanksgiving Party Ideas!


Teen Party Ideas Adult Party Ideas |
Perfect Party Supplies Discount Newsletter |
Share Your Party Ideas Party Blog |
Site Map |