Tiki Party

| | |
| --- | --- |
| | Who doesn't love the nice warmth and the sun? It is time to host your very own Tiki party with inspiration from Polynesian culture and the South Pacific. Invite all your friends to experience this delightful theme with perfect backdrops and a tropical vibe for a great time.  |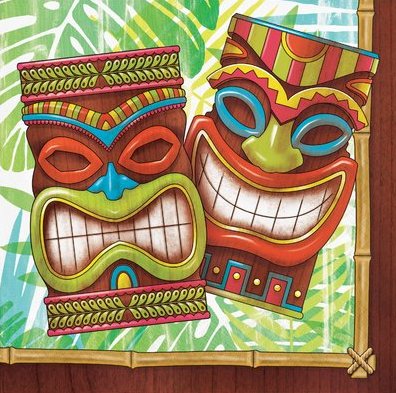 Who doesn't love the nice warmth and the sun? It is time to host your very own Tiki party with inspiration from Polynesian culture and the South Pacific. Invite all your friends to experience this delightful theme with perfect backdrops and a tropical vibe for a great time. 
---
Tiki Party Invitations
When making invitations for your event, make sure to include a fun saying like "it's tiki time" or "aloha and welcome to a tiki party".
Tiki Masks - make your invitations look like traditional wooden masks by using brown cardstock and cutting the card into the outline of your design. Then, use colorful paint and black marker outline to create your design. On the back of your card write your party information and a fun saying. 
Palm Leaves - using green cardstock, cut out the general shape of a tropical palm leaf. On the front, draw some leaf lines in black marker and write a fun saying in the middle. Then, on the back, write your party information and a fun saying. 
---
Tiki Party Decorations

Use lots of bright tropical colors throughout your decorations
Have a color theme of bright green, orange, purple, and pink
Have inflatable palm trees and lais for your guests to wear
Use a colorful table runner using one of the main party colors
Hang a few Tiki torches
Use a natural tissue able skirt
Hang paper lanterns and stringed lights to brighten up the party
Have pink flamingos
Have a pineapple
Use coconuts or party cups and have mini umbrellas
Set up a Tiki bar and have a hut
Play tropical music
Have a colorful wooden chicken for good luck
Have palm leaves
Have small bouquets of tropical flowers for centerpieces
Create a wreath out of colorful mini umbrellas
Have a large Tiki totem pole - you can make some out of stacked cardboard boxes and colorful paint
Tell your guests to come dressed in grass skirts, Hawaiian shirts, lais, hair flower, and more
---
Tiki Party Games and Activities

Hula dance - teach or learn a traditional hula dance
Go to the beach - if possible take a trip to the beach when the sun is setting. This works better if the weather is warm and sunny.
Pass the coconut - play just like hot potato 
Limbo - have a sting of colorful flowers as your limbo bar
Flamingo ring toss - have pink lawn flamingos and try to throw colored rings on their heads
Totem pole bowling - on plastic kids bowling pins, paint totem pole designs and faces and then use a coconut as the bowling ball
Tiki toss - similar to corn hole, but paint Tiki faces with mouths open for the holes
Hula contest - have hula hoops and play music while people are playing
Paint a pineapple - have pineapple paper cutouts and colorful paint
Necklace making - have wooden beads both brown and colorful, and stretchy bracelet wire.
Watch a movie with Polynesian origins, like Moana
---
Tiki Party Crafts

Tissue Paper Bouquet of Flowers
Fold a larger piece of tissue paper many times to make a square shape
Draw a heart shape on the tissue paper and cut it out (making many colourful petals)
Use a pipe cleaner for the stem – poke it through the point end of the heart shaped tissue paper. Take another heart and rotate it a little and poke it through, until you have used all the hearts.
Fold the end of the pipe cleaner so the hearts will not fall off
Fold up the heart petals and wrap the pipe cleaner with a small piece of clear tape
Cut green tissue paper into a heart (for a leaf) – make two hearts
Glue it onto a piece of pipe cleaner (put pipe cleaner in between the two hearts)
Wrap the leaf pipe cleaner around the stem pipe cleaner to finish off the flower
Repeat as many times for the number of desired flowers
Sand Art
Use a thicker paper, glue, and colored sand (you can either buy this or make it with food coloring)
Draw a design lightly with pencil
Cover the design with glue
Cover the glue with the sand color of choice
---
Tiki Party Food

BBQ chicken or BBQ pineapple meatballs (both look great on kabobs)
Pig roast or ham (with pineapple on top and lemon juice)
Cheese and grape tray (hint: in the center use the top of a pineapple – top third of the edible party and the green topper)
Cut up fruit – serve in an emptied out watermelon (cut opening in a zig zag shape). Have kiwi, watermelon, blueberries, strawberries, and red grapes. 
Beach Cupcakes – have some tops with blue water (use food coloring) and gummy sharks and others with sand tops (use grated graham crackers) and put in a drink umbrella (will look like a sun umbrella on the beach)
Fruit kabobs - using wooden dowels, layer pineapple, strawberries and red grapes. Then, top them off with Tiki mask cutouts. 
Fruit salsa served in a pineapple
---
Tropical Tiki Bar Party Drinks

Make sure you are aware of guests' ages and serve age appropriate drinks. Either way serve them in coconuts or clear glasses to show off the color and of course a mini umbrella. 
Alcoholic: 
Often alcoholic versions have rum, a sweet liquor and fruit juices which are garnished with fruit and Maraschino cherries. Some examples include:
Mai Tai
Singapore Sling
Zombie
Margarita
Blue Hawaii
Mojito, Caipirinha
Gin Pahit
Planter's Punch. 
Non-alcoholic:
If there are guests who are underage, you can make mocktails or virgin cocktails that still look cool, but have no alcohol content. Some examples include:
Shirley Temple
Sparkling Grapefruit
Blueberry Ginger Cooler
Orange juice and cranberry juice
Pineapple juice with a strawberry garnish 
---
Related Party Ideas