Disney Princess Party Ideas

Your little girl will love a Disney Princess Party! All little girls wish upon a star and dream of becoming a princess. At your child's Disney Princess Party their dreams the excitement of meeting all the Disney Princesses Cinderella, Belle, Jasmine, Aurora, Ariel, Snow White, Mulan, Briar Rose, Tiana and Pocahontas can come to life.

---
Disney Princess Party Supplies and
Disney Princess Birthday Decorations
Get everything you need for your Disney Princess Theme Party in this
Party Pack!

Disney Princess Ultimate Box - $ 100.99
Once upon a time, there lived a little girl who had the ultimate birthday! Our ultimate party package for 8 includes Disney Princess partyware, favors, and party decorations. And if you were wondering, yes, she lived happily ever after!

Use the colour theme pink, purple, lime green (match your favourite Disney Princess's theme colours)
Hang white or pink twinkle lights
Twirl streamers and lots of colour themed and Mylar balloons
Hang a "Mirror, Mirror" on the wall
Play princess music (from your favourite Disney movie)
Have a throne chair for the princess birthday girl. Cover it with a pink slip cover
Hang Disney pictures, posters or cover existing pictures with Disney wrapping paper
Add Disney Princess decorative wall stickers. They are so cool and don't remove any paint from the walls!
---
Disney Princess Party Games and Activities

Disney Princess Pinata
Make / decorate a tiara or crown and a princess sash
Cinderella's Tea Time Try to have a "lucky cricket" join you at the tea time (use teacups with iced tea)



Belle's Bingo (play like regular bingo) easy to make with princess stickers of all your favourite Disney princesses



Jasmine's Musical Magic Carpet (like musical chairs) Go to your local carpet store and ask to buy / borrow pink and purple carpet samples.



Pass Snow White's Poisonous Apple (like hot potato)Don't get caught with the poisonous apple when the music stops or you are out.



Princess 'n the Pea Use three different pillows and hide an item underneath (e.g. a pea, a little princess figurine, etc.) make use the princesses are looking the other way when you hide the item under the pillow. Have one princess try out the pillows to see if they can guess where the item is, then re-hide the 'pea'.



Pocahontas Princess Walk Race / walk with a book on their head … if it falls off the princess has to start again.



Pin the Sword on Mulan Like pin the tail on the donkey. Use a Mulan Poster and make a sword. Help Mulan save the kingdom.



Save Ariel from Ursula (like octopus) The child who is it, wears the Special Fish Hat "Ursula" and stands in the middle of a large area. The others are all on the outside. The child who is it yells "Ursula". The other mermaids (children) have to run to the other side without getting tagged. If tagged they are eaten and attach hands with "Ursula" making her tentacles longer. When holding hands they will eventually eat all the mermaids in the sea. The winner is Ariel.



Tiana's Tallent Show Set up karaoke, sing and dance bringing the spirit of New Orleans to your party.



Briar Rose Necklace Making Provide the necessary items to create a necklace (make sure the beads, etc are large enough for the guests little fingers).



Aurora's Treasure box Each guest has a pre-spray painted show box. Decorate your treasure box with glitter glue and jewels




Disney Princess Game
---
Disney Princess Birthday Party Food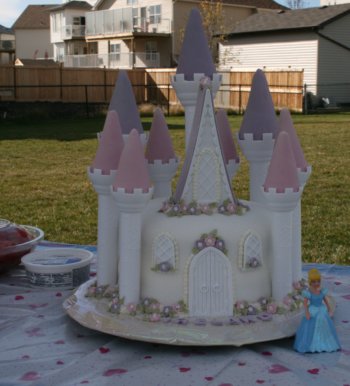 Disney Princess Castle Cake
Shared by Tara Bourdon Casey
Sparkling punch (favourite juice and add ginger ale)
Pink lemonade (serve in tea cups)
Strawberries dipped in chocolate
Crown shaped sugar cookies
Ice-cream sundae station (different flavours of ice-cream, sauces, strawberries, candies, sprinkles)
Cupcakes or a shaped princess cake (cake could be shaped like a princess, castle, horse carriage, wand, or princess hat)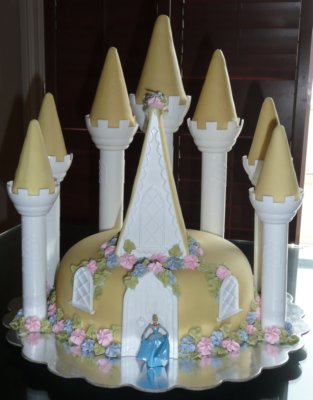 Princess Castle Cake
Shared by Tara Bourdon Casey
---
Disney Princess Party Favors

Disney Princess Favor Set
Ring
Necklace
Tiara
Princess photo frame with their picture inside
princess party blower
Journal and feather pen
Lip gloss
More Girls Party Themes

Share your Disney Princess Party
Stories and Ideas


Teen Party Ideas Adult Party Ideas |
Perfect Party Supplies Discount Newsletter |
Share Your Party Ideas Party Blog |
Site Map |
Party Links< | Cake Ideas/p>