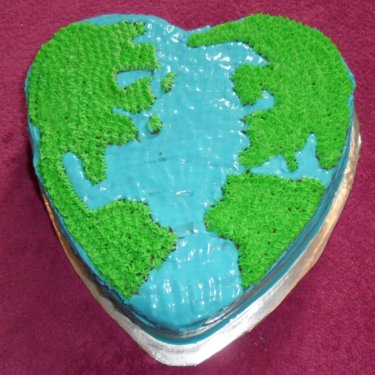 Creating an earth cake may seem difficult, but for the love of the Earth I made an Earth day cake with my kids. We decided to make the Earth in the shape of a heart so show our love and appreciation.

We made two yellow heart cakes. Once they were cooled we levelled them. We put chocolate icing in the center of the two cakes. Then we made a blue icing for the outside using vanilla icing and Azul Blue Wilton icing coloring. Around the outside I used a spatula to apply the icing.
On the top I used piping gel in a icing bag to create the shape of the continents. I looked at a picture of the world and tried my best to create the shape. I then made green icing by mixing vanilla icing with Leaf Green Wilton coloring. I applied the green icing using tip number 16. For the ocean blue color I used the same icing from the sides and I added in piping gel to make it look water like. The water then looked glossy.

For Earth day or earth hour show your love of the earth by making a heart cake with the Earth pattern.