Fall Party Ideas
Celebrate the changing of the seasons with a Fall Party! Decorate with beautiful colors of autumn and fill your house with the joys of the harvest. Gather friends and family and enjoy activities, games and food as you the festivities that come with Fall Equinox.


---
Fall Decorations
Decorate with Fall colors – rust orange, nutmeg brown, yam yellow
Outside use a bale of hay or straw
Bunch and display Indian corn
Make or buy pre-made scarecrows
Decorate your table using a fall color table cloth
Use scented candles. Experiment with different shapes and colors and smells to find your favorite
Use Raffia to wrap around many different items. This will help tie it all together
---
Fall Party Activities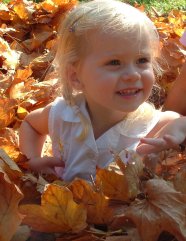 Rake the Leaves. Where I grew up we had tons of leaves in the fall that we had to rake up. Once the pile was big enough, we would all take turns jumping in the leaves!



Go to a local fall parade and fall fair. In the country there are always lots of small town fall fairs. These are the best fairs, little line ups and all the fun of a large amusement park.



Enter your artwork, pie or vegetable to win a prize in a fair. This activity will bring more anticipation to the fall fair.



Go for a Nature Hike. There is no better time of year to go for a nature hike or bike ride. The trees are changing color and the birds are flying south, etc. There are so many changes in nature to appreciate.



Plant a Tree. The fall is an excellent time to plant a tree. This will teach children to appreciate their environment and bring beauty to the surroundings for generations to come.



Host a Campfire (if bylaws permit) Campfires are fantastic in clear crisp fall evening. Campfires are great to play music by, relax and have a drink and of course roast marshmallows and make smores.



Go apple picking then make apple cider – yummy!



Go to a corn maze!
---
Fall Party Games
Three Legged Race. Either run a regular three legged race (tying your leg to a friends and running) or set up an obstacle course to race through.
Beer Pong (for the 'of age' of course) Set up a table outside and you need a number of cups, ping pong balls and beer. The object of the game is to toss your ball into your opponent's glass (multiple glasses are set up like a bowling pin triangle). If you are successful your opponent drinks the beer and the game continues until all the glasses are drunk. Hint: have lots of ping pong balls on hand.
For more fun Fall Fair Games, also check out the games on our Circus Party Page
---
Fall Party Art Activities
Most fall art activities that come to mind revolve around apples and trees. Here are a couple of simple ideas.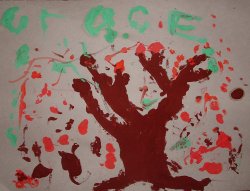 Sandy Tree – in little cups mix fall colored paint with sand (from a beach or local craft store). The paint becomes thick and textured. On construction paper (with a Q-tip) first paint a tree trunk, next dot on colourful leaves. Every painting will look different depending on the age of the child.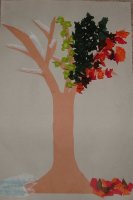 Season Tree – this is a really beautiful art activity, but it takes a long time. You need construction paper for your backdrop, tissue paper and white glue. Tear brown construction paper to look like a tree trunk and branches. Tear tissue paper, place around pencil and dip into glue to add leaves. And tear white tissue paper to add some snow. Make sure that your seasons go in order. It will look fantastic – 5 year olds and older.

Colorful Hands – have an arrangement of fall color paint. Paint the paint onto your hands and place your hands onto the paper to make your work of art.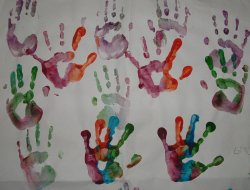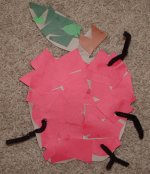 Easy Apples – pre-cut out the shape of apples. I would make these apple shapes red or green. Cut out littler shapes in red and green. Glue these shapes onto your cut out apple. Once you are happy with the look use a hole punch to make a hole for your worm. Just use a brown pip cleaner for your worm. Place your worm through the hole to complete your fall apple.



---
Fall Poems for Kids
The Leaves are Falling

Down, down, down, down,
The leaves are falling down.
In their lovely dresses
Of red and brown.

Down, down, down, down.
While the flowers sleep.
Careful as you run along
Don't make a peep.


Ten Little Squirrels

Ten little,
Nine little,
Eight little squirrels,
Seven little,
Six little,
Five little squirrels,
Four little,
Three little,
Two little squirrels,
One little frisky squirrel.


Rake the Leaves

Here we come to rake the leaves,
Rake the leaves,
Rake the leaves.
Here we come to rake the leaves,
And make a great big pile.


Autumn Days

Days are getting cooler,
Autumn days are here,
Farmers gather apples,
Thanksgiving is near.
Colored leaves are falling,
Grandma knits for me,
How I love the autumn,
There is so much here to see.


---
Fall Party Food


Autumn Cake
---
Fall Party Favors
Scented candle – vanilla, apple
Wrap coffee or tee and attach cinnamon sticks
Apple cider
Thanksgiving Party Ideas
Add Your Fall Party Ideas Here!
Teen Party Ideas
Adult Party Ideas |
Perfect Party Supplies
Discount Newsletter |
Share Your Party Ideas
Party Blog |
Site Map |