Sesame Street Party

| | |
| --- | --- |
| | The Sesame Street characters will be a delight at your child's Sesame Street party. Who knew that the educational children's television series Sesame Street could become an icon to children around the world (since 1969, in 79 languages and broadcast in 150 countries). |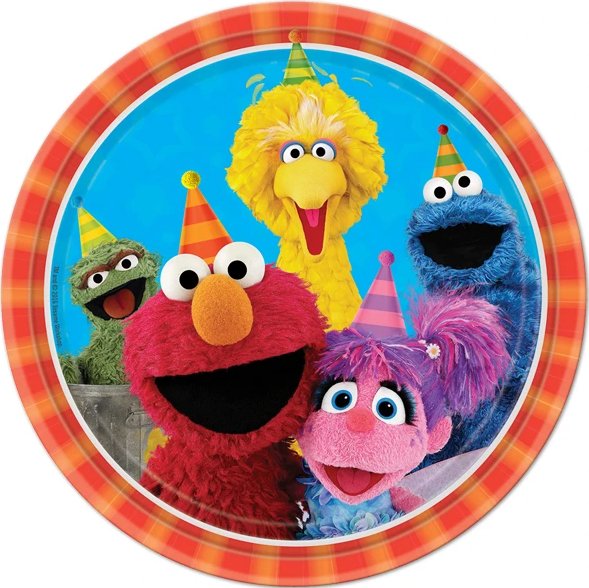 The Sesame Street characters will be a delight at your child's Sesame Street party. Who knew that the educational children's television series Sesame Street could become an icon to children around the world (since 1969, in 79 languages and broadcast in 150 countries).
---
Sesame Street Party Invitations
Make your own Sesame Street Birthday Party Invitations using cardstock. Download a Sesame Street picture or use Sesame Street stickers. If using a picture try to glue on googly eyes and outline the picture with glitter glue (both favorites with children).
Write a cute saying like the creators would use on the show like:
"This Sesame Street party is brought to you by the letter ___ for our guest of honor ____ (child's name) and the number ___ (child's age).
---
Sesame Street Party Decorations
Use Sesame Street base color theme of green, red, yellow and blue
Match your favorite character (lots of bright cheery colors. e.g., Elmo's color theme would be red, blue, yellow, green and orange. Abby Cadabby pink, purple and light blue)
Kids love lots of balloons. You are able to get special characters in helium balloons of the Sesame Street characters
Sesame Street party supplies plates, napkins, tablecloths, centerpieces, etc.
Welcome guests with a street sign that says your guests of honors name's street, have the street number their age and attach helium balloons to the sign
If it's a first birthday have a Sesame Street book and have your guests write a nice message to the guest of honor in the memory book
Use fan decorations and add the eyes and mouth of different characters (e.g., yellow becomes Big bird, red becomes Elmo, Blue becomes Cookie Monster, etc.)
---
Sesame Street Characters

Abby Cadabby; Alice Snuffleupagus; Aloysius Snuffleupagus; Baby Bear; Baby Natasha; Barkley the Dog; Bert; Betty Lou; Big Bird; Bruno; Buster the Horse; Colambo; Cookie Monster; Count Von Count; Countess Von Backwards; Countess Darling Von Darling; Curly Bear; Elmo; Ernie; Mr. Johnson; Forgetful Jones; Gladys the Cow; Grover; Grundgetta; Guy Smiley; Harvey Kneeslapper; Herry Monster; Hoots The Owl; Kingston Livingston III; Little Bird; Mumford the Magician; Murray Monster; Oscar; Prairie Dawn; Prince Charming; Rosita; Sherlock Hemlock; Slimey the Worm; Sonny Friendly; Telly Monster; The Honkers; The Martians ( Yip Yips); The Twiddlebugs; Two-Headed Monster; Zoe and Kermit the Frog.
---
Sesame Street Party Activities and Games

Sesame Street coloring - when you are waiting for guests to arrive, have a few coloring pages for your guests to color.
Musical chairs - use small colorful chairs (I found some at a discount type store with six different colors). Play Sesame Street music or child friendly music. Depending on the age, I would let the guests always stay in the game. They will be excited just to find a chair to sit on.
Cookie Monsters Cookies - make sugar cookies and have the guests decorate the cookies. Have a variety of icing colors, sprinkles and maybe even mini candy toppings.
Pin the Wand on Abby Cadabby - play like pin the tail on the donkey. Use a soft scarf to cover the eyes of your guests. Spin only two times if your guests are really young. You also may need to guide them to set them in the right direction.
Colorful bracelets - get colorful pony beads to string onto pipe cleaners. This will be a challenge for younger guests. If you have older guests you can get smaller beads and stretchy string for the center. 
Colorful Necklaces - use yarn and string on fruit loops cereal. This looks colorful and kids 2 years and up will love this activity

!
Ernie, Ernie, Bert - play like duck, duck, goose. Have the guests sit in a circle and put their hands up in the air if they want to have a turn. The selected person will say Ernie, Ernie, and then to select a friend they say Bert. Then they both run around the circle. To help them understand the concept, stand in the middle of the circle and point to when they need to sit. Again because of the age nobody gets out of the game. Make sure all guests get a turn.
Elmo Says - get your guests moving by playing Elmo Says. Say Elmo says and then give a move for your guests to copy (e.g., hop up and down, do the twist, etc.). 
Craft Circle - use a paper plate, large googly eyes, yarn and markers to create you favorite Sesame Street Character.
Big Bird's Bird Feeder - make your own bird feeders. Use an old toilet paper roll or cut a paper towel roll in half. Roll them with vegetable shortening and then roll it to cover it with bird seed. To hang it, add a hole punch and string a piece of yarn through it.
Feed Cookie Monster - a fun game of cornhole. Make the base blue and add Cookie Monsters face. Then try to toss bean bags through his mouth. 
Elmo Can Toss - get some old empty cans and spray paint them red, then add large googly eyes and a pompom orange nose. Stack then into a pyramid (3 on the bottom, 2 in the middle and 1 on top). Then your guests can toss a bean bag or soft ball to try to knock them over.
Rubber Ducky Scavenger Hunt - hide a number of rubber duckies around the party area. Give your guests a basket or bag to collect their found duckies. Make sure you have enough for everyone to find a few. Hint: you could get different colored duckies and each guest searches for a different color, or help a guest if they are having a difficult time finding a duck.
Tickle Me Elmo - play this game like hot potato. Sit in a circle and pass an object around (Sesame Street stuffed animal) when the music stops that guest gets tickled. Suggestion is to tickle with a feather, so you are never touching the child. Or give them the option to tickle the stuffed animal.
How Many Cookies are in the Cookie Jar - have a clear cookie jar filled with cookies. Have your guests guess how many cookies are in the jar. The closest guess gets to keep the jar of cookies.
---
Sesame Street Birthday Party Food

Pizza
Fishy crackers
Hot Dogs
Create fruit trays that artistically look like the main characters
Juice
Cookie Monster's Favorite Cookie - chocolate chip cookies
Abby's Magic Wands - have a cube of watermelon, top with a raspberry
Trash Can - worms and dirt - chocolate pudding with crushed cookies and gummy worms
Seame Street cupcakes are great for this age

!
Decorate the tops with the characters faces (a little difficult)
Decorate the tops with cupcake toppers
Decorate the tops with coloured sprinkles (red, blue, green, and yellow)
---
Sesame Street Party Favors

Coloring book and crayons
Yellow rubber ducky
---
Related Party Ideas