Barbie Party Ideas
"Celebrate Girl Power with a Barbie Party!"

Decorate with pink balloons and streamers, and invite your girlfriends over for a dress up Barbie Birthday party!
Barbie Party Supplies and Decorations
On the back of the Birthday girls chair, tie a special balloon or tie a Big pink ribbon or make balloon bouquet
Hang Barbie posters
Accessorise with Barbie dolls and a Barbie Doll House
Use a Pink table cloth, and pink paper products
Use Pink helium balloons and glue to make a pink archway when the guests arrive
Choose a fun Barbie Theme.
Fashion Party
Barbie Doll Party
Retro Barbie
Swan Lake Barbie
Slumber Party Barbie
---
Barbie Party Games and Activities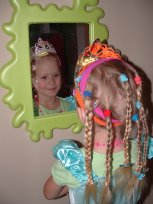 Candy Count using heart-shaped candies
Set up a Craft center to Make beaded or candy jewellery
Decorate a tiara using feathers, beads, glitter glue, pipe cleaners, buttons and stickers
Have a Dress up Barbie Fashion Show
Have a Barbie Makeover. Paint the girls nails with glittery or pink nail polish and do their hair with hair accessories, do some face painting or even Barbie Tattoos.
Dress up Barbie with Barbie dolls and clothes
Pea Under The Pillow Game. Take a small marble and place it under one of three pillow. The girls must then try and guess where the marble is by sitting on it or laying their head on it.
Play Musical chairs to the Nut Cracker Music
Barbie says (like Simon says)
Pin the Tiara on Barbie
What's missing? Place several items on a plate (like hair accessories) Show the player the tray. Then turn around and remove one item and show the player the tray again. What's missing?
---
Barbie Birthday Party
Food and Drink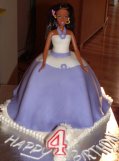 Make a Tiara Cake
Make your own Heart or Star shaped cookies with pink icing
Barbie Birthday Cake
Serve Pink Lemonade
Drop a small piece of cherry or strawberry into an ice cube tray, fill the rest with water and freeze for a fun treat!
Make Heart-shaped sandwiches using cookie cutters
---
Barbie Birthday Party Favors
Barbie Doll and clothes
Lip gloss
Glow Jewellery
Hair accessories
Bubble bath
Barbie Stickers
Beaded necklaces
Sunglasses
Barbie Coloring book and crayons
More fun Girly Party Ideas

Share Your Barbie Party Stories and Ideas!


Perfect Party Ideas Home | Birthday Party Ideas | Kids Party Ideas | Teen Party Ideas
Adult Party Ideas | Seasonal Party Theme Ideas | Party Games | Party Supplies
My Secret | Contact Us | Privacy Policy | Share Your Party Ideas | Party Blog | Site Map
Party Links | Cake Ideas