High School Musical Party

| | |
| --- | --- |
| | Time to get your head in the game and plan out your very own High School Musical party. Disney has created a hit with the story of Troy and Gabriella with 3 movies in the series and a spin off show. When everything is ready there will not "be a star in heaven that we can't reach" (Breaking Free - High School Musical) at your party. You are going to "wanna hold on tight" (Everyday - High School Musical 2) to the memories you make at your fantastic party. Using this guide, all you need to do is "take one step" (Can I Have This Dance - High School Musical 3: Senior Year) and everything is going to be great. |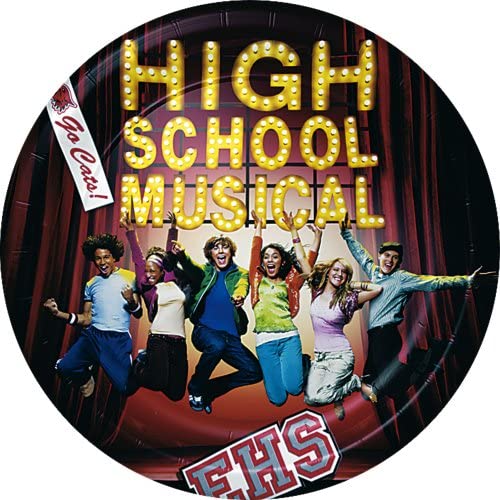 Time to get your head in the game and plan out your very own High School Musical party. Disney has created a hit with the story of Troy and Gabriella with 3 movies in the series and a spin off show. When everything is ready there will not "be a star in heaven that we can't reach" (Breaking Free - High School Musical) at your party. You are going to "wanna hold on tight" (Everyday - High School Musical 2) to the memories you make at your fantastic party. Using this guide, all you need to do is "take one step" (Can I Have This Dance - High School Musical 3: Senior Year) and everything is going to be great.
---
High School Musical Party Invitations
For invitations, create a play program that looks like something you would get if you were to actually see High School Musical. Fold a piece of paper into thirds for a front, middle, and back panel. On the front have glitter letters that say "High School Musical Party" and one of the fun sayings below. On the middle panel, write important party information (time, place, etc.) and hopefully your party does not take place at the same time as a basketball game, decathlon, and play performance. Then, on the last panel, have a photo of your favorite scene in the movies or a picture of you imitating the movies. 
Take my hand, take a breath and come to my High School Musical party
Think back to kindergarten, you will not have to be anything but yourself at this party
Score 41 points in a game, invent a space shuttle and microwave popcorn like Gabreilla claims to have done at this party
You can have your book back after this awesome party
---
High School Musical Party Supplies and Decorations
Use the color theme red, yellow and blue for balloons and streamers
Graduation caps for party hats 
Banner that says "GO WILDCATS"
Bristol board letters that say EHS for East High School (where they went to school in the movies)
Create the stage backdrop (this can be done inside or out). Hang a red sheet for the backdrop and yellow twinkle lights to create the mood.
Have a red carpet entrance into the party or leading to a movie room.
Have different sections related to activities in the movies, like basketball, decathlon, play, summer, etc. 
Play the High School Musical soundtrack
---
High School Musical Party Games and Activities

Make a backstage pass
Learn or choreograph a new dance and perform for the other guests
Freeze dance - stop the music while everyone is dancing and they must hold their dance move until the music starts again

!

Sing karaoke and use a spotlight to choose who will sing next
Watch a movie or the series (great if it is a sleepover). Consider watching the movie outside under the stars. 
High School Musical trivia game - test your friends to see how well they really know the movies or show or even fun facts about filming
Name that High School Musical tune - play the first 5 seconds or 5 seconds of a random section of the song and see if people can guess the song
Play basketball - play simple drills and pretend that you are on the Wildcat team
Learn a safe simple science experiment
Go see a reenactment play of High School Musical
---
High School Musical Party Food

Zeke's crème brûlée
Gabriella's cheese fries - try not to dump them on any of your friends
Zeke's scones 
Coach Bolton's sub sandwich
Zeke's cookies
Decathlon pie (or as some may say pi or 3.14159…)
Flavored popcorn (in cute movie boxes)
Pizza
Candy bar with mainly red and white candies
Soda and iced tea (Sarpay's favorite)
Cake or cupcakes - consider plain icing and stick in popsicle sticks with pictures from the movies on top or top with star sprinkles.
Brownies - do you think yours will hold up to the reputation of Gabriella's mom's famous brownies
If it is a sleepover, make Wildcat Waffles topped with strawberries and whip cream! This will be a great morning starter with some juice of course.
---
High School Musical Party Favors

High School Musical DVD
Inflatable microphone or guitar
Stickers / temporary tattoos
Sweatband for sports
Mini basket-ball
Star shaped cookies
---
Related Party Ideas