Mickey Mouse Party

| | |
| --- | --- |
| | Since the introduction of Mickey Mouse, about one hundred years ago, he has brought people together and given them hope. In fact, Mickey Mouse was the second character created by Disney and has continued to evolve for the coming generations. As children and adults alike, we love this character and the fun, happy memories associated with him. Now, it is time to say "Meeska, Mooska, Mickey Mouse" and host your very own timeless Mickey Mouse party.  |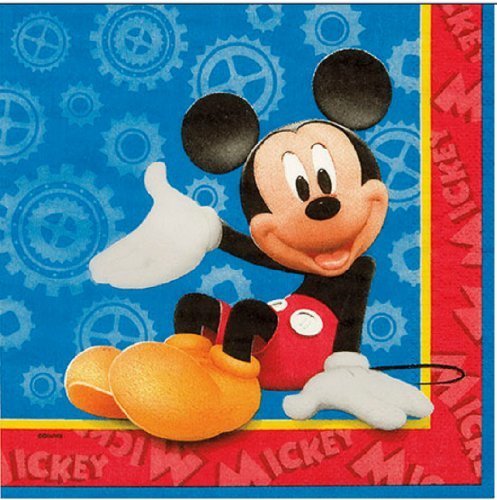 Since the introduction of Mickey Mouse, about one hundred years ago, he has brought people together and given them hope. In fact, Mickey Mouse was the second character created by Disney and has continued to evolve for the coming generations. As children and adults alike, we love this character and the fun, happy memories associated with him. Now, it is time to say "Meeska, Mooska, Mickey Mouse" and host your very own timeless Mickey Mouse party. 
---
Mickey Mouse Party Invitations
To make your own Mickey Mouse invitations, use a bowl and cup to trace the iconic three circles that make Mickey's head onto black construction paper. Then, cut out the shape and glue it into a piece of bright red construction paper. Write something cute like: "Oh Toodles you are invited to my Mickey Mouse party".
---
Mickey Party Party Decorations and Supplies

Use the color theme of red, black, and white
Have mouse ears for party hats
Turn your house into the Clubhouse or Magic Kingdom castle
Hang Disney Posters and hand drawn charcoal sketches of Mickey Mouse
Use red, black, green and yellow balloons
Hang twisted red and black streamers
Tie red and white balloons to the back of the chairs
Have a sign that says "Meeska, Mooska, Mickey Mouse"
Make your own Mickey balloon with black and white balloons
Handy helpers - black cutlery wrapped in yellow napkins in a red bucket
Red plastic cups with two white dots for mickey's buttons
Balloon arch with red, black, white, and yellow balloons
Say Tootles photobooth - have cutouts of Mickey and all his friends, including Goofy, Donald and Daisy Duck, Minnie Mouse, and Pluto 
---
Mickey Mouse Party Games and Activities

Watch a Mickey Mouse movie or show - there are some good classics, holiday themed, and new ones that are still coming out
Pin the ears on the mouse 
Have Mickey and friends coloring pages with pencil crayons, markers, stickers, etc.
Make your own Mickey - have a craft station where guests can make a Mickey character based on their ability level (pom-poms, quilting, painting, coloring, pipe cleaners, construction paper, knitting, etc.)
Mickey bean bag toss - similar to cornhole, cut out Mickey ears and head from plywood or thick cardboard. Then, throw a bean bag through the hole to win a prize
Play musical chairs to the Mickey Mouse Clubhouse theme song - you dance and move around the chairs when the music is playing and then sit in a chair when the music stops. 
Clubhouse dance party - join Mickey and his friends for a friendly dance part in the beloved Clubhouse
Play Mickey themed Bingo - have squares with Goofy, Donald Duck, Daisy Duck, Minnie Mouse, Pluto, Mickey, the Helper Hands, the Clubhouse, etc.
Play Mickey themed trivia - with all the history and fun facts about Mickey, test your guests to see their knowledge. Here are some examples:
What was the first Mickey film

?

A: Steamboat Willie
When was it released

?

A: 1928
True/false was Mickey the first cartoon character to get a star on the Hollywood Walk of Fame

?

A: True
What is Mickey's full name (first, middle, and last)

?

A: Mickey Theodore Mouse
Guess Goofy's gumdrops - have gumballs in a jar and have the guests predict how many there are. The winner gets to keep the jar of candy.
Color your own Toodles - have outlines of Toodles and have the guests create their own tools, leaving the last as a surprise question mark. 
---
Mickey Mouse Party Food

Mickey Mouse fruit tray - have two small bowls with blueberries and one larger bowl with the top third black berries and the bottom two thirds raspberries. As well in the larger bowl add two pieces of pineapple for Mickey's buttons. 
Cheese and crackers
Pizza with pepperoni mouse ears - have one regular sized pepperoni and two smaller pepperonis for the ears
Mickey sandwiches - use a cookie cutter
Mickey Mouse sugar cookies
Mickey Mouse shaped pancakes with raspberries and blueberries
Scoop of vanilla ice cream with Oreo cookies for ears - Scoop ice cream into cupcake liners with two mini Oreos stuck in for ears. Place on an oven sheet and place in the freezer. When cake is served, no need to scoop the ice cream, and it comes in a fun way eat



Mickey Mouse fruit tray - have two small bowls with blueberries and one larger bowl with the top third black berries and the bottom two thirds raspberries. As well in the larger bowl add two pieces of pineapple for Mickey's buttons. 
Cheese and crackers
Pizza with pepperoni mouse ears - have one regular sized pepperoni and two smaller pepperonis for the ears
Mickey sandwiches - use a cookie cutter
Mickey Mouse sugar cookies
Mickey Mouse shaped pancakes with raspberries and blueberries
Scoop of vanilla ice cream with Oreo cookies for ears - Scoop ice cream into cupcake liners with two mini Oreos stuck in for ears. Place on an oven sheet and place in the freezer. When cake is served, no need to scoop the ice cream, and it comes in a fun way eat
---
Mickey Mouse Party Favors

For all your party favors have a sign that says "thanks for stopping by"
Mickey and friends stickers
Mickey Mouse coloring book and crayons
Crazy straws
Red, white, and black candy
Mickey Mouse ears
Bubble soap and wand
Character figures
---
Related Party Ideas