Wonder Pets Party

| | |
| --- | --- |
| | You're on our way to the cutest Wonder Pets party. The phone, the phone is ringing … and Linny (Guinea Pig), Ming-Ming (Duck), and Tuck (Turtle) are ready to fly away from the classroom to help celebrate your little one's special day. The Wonder Pets trio are here to help save the party animals with spreading their teamwork fun! This is serious! |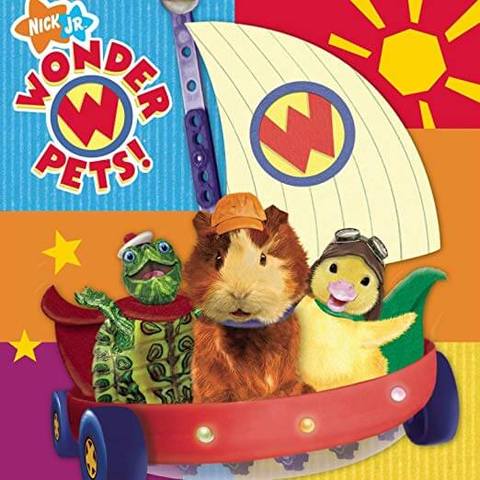 You're on our way to the cutest Wonder Pets party. The phone, the phone is ringing … and Linny (Guinea Pig), Ming-Ming (Duck), and Tuck (Turtle) are ready to fly away from the classroom to help celebrate your little one's special day. The Wonder Pets trio are here to help save the party animals with spreading their teamwork fun! This is serious!
---
Wonder Pets Party Invitations
To make Homemade Wonder Pets Party Invitations, sketch and cut out the Fly Boat on red cardstock paper. Download a drawing or use stickers of the 3 characters – Linny, Tuck and Ming-Ming and put them onto the Fly Boat. Write a cute saying:
"We're on our way to celebrate ____'s # birthday. Come have some teamwork fun with us at my Wonder Pets party!"

---
Wonder Pets Party Decorations & Supplies

Wonder Pets napkins, plates, cups, table cover, banner, hat, etc.
Use the color theme red, green, and yellow
Have masks for each character that the guests can choose from, including Linny, Ming-Ming, and Tuck
Red and green balloon arc
Set up different areas for the themes:
Reading area (for beginning)
Coloring area – lots of crayons and coloring sheets
Paint area
Cooking center - have chef hats and aprons for your guests to wear
Draw and paint a large cutout from cardboard of the Fly Boat to hang on the wall
Photo wall - have a blue backdrop and cut out clouds on white paper to make it look like a cartoon sky. Then, have capes in red, blue, and green, as well as other props for the guests to use to be "Wonder Pets" in the photos.
---
Wonder Pets Party Games and Activities

Start with some Wonder Pets coloring sheets
Guinea Pig play - Get a large appliance box and fill it with shredded paper.
Painting Center - Set out a large plastic table cloth on the floor for your guests to paint on. Get each guest a real canvas (also great for a party favor) and lots of types of paint brushes. *Hint use an empty egg carton to hold the different colors of paint and another hint is to use garbage bags to keep their clothes clean (cut large holes for the arms and head).
Dress the Wonder Pets - Have cut outs of the Wonder Pets and have the guests glue them onto construction paper. Also have lots of cut outs of clothing, hats, etc. Let your guests dress the characters (just like the video game).
Decorate the Fly Boat - Have a large empty box (or tissue box) to be the Fly Boat. Have the guests decorate the fly-boat … then the can play in it, or with it.
Save the Caterpillar - Make a caterpillar craft. Use empty egg cartons. Cut them so you have a strip of 4 bumps together. Use a pipe cleaner for the tentacles (help put the holes in the head for them to fit through). Use makers to color your caterpillar. You can also decorate with jewels, colored puff balls, glitter, etc.
Save Ming-Ming's cousins - Use a small kiddy pool and fill it with many rubber ducks (try to find the ones dresses in career clothes that look different). Give the guests little nets and ask them to save a specific duck. Save them one at a time. You could also save lots of types of animals depending on what bath toys are available.
Linny's Charades - Linny is quite knowledge about zoology so make up charades with animal cards for the guests to act out
Good Eye Tuck - Play eye spy with my little eye
Ming-Ming, Fly Boat

!

 - Play a version of duck duck goose.
Musical Chairs - play the Wonder Pets theme song from when they get a call and when the music stops, the players need to get a chair. 
Make some animal food, use animal cutters and with the guests make sugar animal cookies and decorate them. You can also make Jello Jigglers with the animal cookie cutters.
---
Wonder Pets Birthday Food

Fruit juice
Celery "this calls for some celery" as Linny would say
Make a Wonder Pets Cake. Make it with a white base, pipe in colors to make a scene and add Wonder pet toppers for the Fly Boat and characters.
Wonder Pet Cupcakes – use red, green and yellow icing and add the characters for the colorful toppers.
Animal crackers
---
Wonder Pets Party Favors

Rubber duck

Adopt a Wonder Pet - have stuffed animals of each character
Wonder Pets stickers
Wonder Pets story
Coloring book and pencil crayons or regular crayons
Celery seeds from Linny
---
Related Party Ideas