Jonas Brothers Party

| | |
| --- | --- |
| | Break all the barriers with sensational Jonas Brothers Party ideas. Make this party your own. You are able to create a wonderful double themed party. Have fun experiences with the theme of rock star weavinging throughout the activities and games. Celebrate your big day with your favorite rock star brother: Nick, Kevin or Joe! Since staring in Camp Rock, Jonas Brothers have released numerous new great albums. Rock on at your own Jonas Brothers Birthday Party. |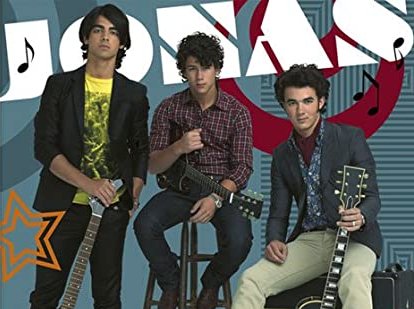 Break all the barriers with sensational Jonas Brothers Party ideas. Make this party your own. You are able to create a wonderful double themed party. Have fun experiences with the theme of rock star weavinging throughout the activities and games. Celebrate your big day with your favorite rock star brother: Nick, Kevin or Joe! Since staring in Camp Rock, Jonas Brothers have released numerous new great albums. Rock on at your own Jonas Brothers Birthday Party.
---
Jonas Brothers Birthday Party Invitations

Invite your screaming fans over with some pre-made Jonas Brothers Invitations. Or, make your own backstage pass for your party invitation. On the front have a picture of the band and write:
"Rock On! Come Celebrate My Birthday With the Jonas Brothers!
By VIP Invitation Only!"
On the back have your party information. Your guests will need to show their backstage pass to enter the party.
---
Jonas Brothers Party Supplies and Decorations

Use the color theme purple, pink and black for balloons, and streamers
Hang lots of different sized stars (you can make these even with cardboard, spray paint and glitter)
Red carpet entrance
Inflatable Instruments
Set up a stage for Karaoke
For an outdoor party, set a campfire area
Have a sleepover in tents - inside camping adds glam. Use white washed wood to create the light frames then line it with a light chiffon fabric. Use single mattresses, you can get some for a great price that are blow up mattresses. Use soft colored bedding, fluffy pillows and twinkle lights. If outside in real tents, have all the glam of inside but bring the glam outside. Twinkle lights, lanterns, bug zappers, everything to make your guests feel comfortable.
Hang a sheet outside for a movie under the stars. Have comfortable seating, lots of snacking options, and a projector. 
Hang Jonas Brothers posters
Guitar pinata 
---
Jonas Brothers Party Games and Activities
Create backstage passes for your guests. Often on backstage passes will say VIP backstage pass. ___'s age# birthday bash. VIP Guest. Add a picture of the guest and guest of honor. Create a QR code that can link to music from the band. On the back of the pass you can have birthday party information if you are using these as an invitation and have a small game that your guests can play. Trivia of the band or the guest of honor. Have these hanging on a lanyard.
Circle of Friends - Everyone holds hands and forms a circle. Then try to get a hula hoop around the circle of friends without breaking the chain by stepping through and passing the hula hoop over heads. Remember don't break your hands the whole time.
Use hair paint to add rock star streaks
Makeup Makeover - set up a station where you look like you are getting ready to go out to perform. Have a variety of choices of makeup, lotions and glitter.
Karaoke / Dance - if you wish and your guests agree you could even video the event and send a copy to your friends. Have some confetti made up in bags to toss at your great performers. Just use a small ziplock bag and put cut up tissue paper into the bag.
A photo booth is a must. Set up a backdrop of a balloon arch, have lots of dress up clothes, sunglasses, hats, etc.
Play the Wii Disney Sing It
Make a video birthday messages from the guests to the birthday guest of honor 
Hang up a large white sheet outside and watch the Camp Rock Movies under the stars. Set up comfortable seating with fluffy pillows and fleece blankets. Snack areas are a must, so set up your own personal concession stand. Lots of treats and drinks (water and soda). Twinkle lights and lanterns will certainly set the mood. If you wish to make your own lanterns you can use old cleaned out bottles. Fill them with mini twinkle lights (that you can get at discount stores) and clear glass beads. These lanterns give off a subtle light.
Have a bonfire and make smores. Make sure you have enough seating and safety measure are put into place. For instance, follow your local fire regulations, have a bucket of water near by and a fire extinguisher.
---
Jonas Brothers Birthday Party Food

Chips with dip
Pretzels
Hot dogs / hamburgers (BBQ food)
Pizza
Corn on the cob
Pasta salad
Cookies
S'mores
Cold Soda
Decorated cake (even plain icing and put a photo of the Brothers on top)
Guitar cake
Cupcakes with treble clef on top. Make the treble clef out of melted chocolate. Pipe it onto parchment paper and cool. Once cooled it can be placed on top of the icing on your cupcakes.
---
Jonas Brothers Birthday Party Favors

Sunglasses
Glow bracelets and Jewellery
Jonas Brothers Temporary tattoos
Stickers
Music, rock star or Jonas Brothers journal with a cool pen
Inflatable Instruments
Photoshopped picture of guests with the Jonas Brothers
---
Related Party Ideas