Finding Nemo Party Ideas

A Finding Nemo Party is so popular with all ages. From the hilarious story, beautiful colors, and numerous theme games this party will be a hit. Invite Nemo, Marlin, Dory and your guests to Australia's Great Barrier Reef for this underwater adventurous Finding Nemo Birthday Party. Make a splash with this breathtaking underwater party.

---
Nemo Party Supplies and Decorations
Colour theme blues, green and oranges
Hang streamers everywhere!. Look like you are under the water with True Blue, Sun Kissed Orange, and Bermuda Blue Streamers
Hang some fish friend Mylar Balloons from the ceiling
Hang a Nemo Balloon from the birthday boy/girl's chair
Finding Nemo Table Cloth
Hang a Nemo Banner
Use a Nemo themed Candle on your birthday cake
Get a Nemo Pinata!
---
Finding Nemo Party
Games and Activities
Octopus - (great for a large group)
The child who is it, wears the Special Fish Hat and stands in the middle of a large area. The others are all on the outside. The child who is it yells our one of the characters names, for instance the shark, Bruce. The other fish (children) have to run to the other side without getting tagged. If tagged they are eaten and attach hands with "Bruce" the shark. When holding hands they will eventually eat all the fish in the sea.



Find the Fish Eggs
Just like an Easter egg hunt which kids love. Hide the plastic Easter Eggs and search to see which team can collect the most fish eggs.



Dory, Dory, Nemo!
A play on words from the traditional game duck, duck, goose!



Water balloon toss



Finding Nemo
Otherwise known as hide-n-go seek. (before playing, assess the area and age of the guests, you don't really want a real game of Finding Nemo!)



Gill Says
(Simon Says) except in the aquarium where Gill is the fish in charge.



Pin the Fin on Nemo
Create the scene with Butcher Block Paper and card stock (fins) or Nemo Poster





Create paper plate fish and jelly fish! Use paper plates, google eyes, crayons, and streamers



Go Fishing
Outdoors set up a kiddie pool and you can get kids size toy floating fish and a fishing reel



Blow Bubbles



Wet and wild slip and slide. Add bubbles to the slide area



Watch the Nemo Movie



If you are going swimming or in the water, I always make each child have a parent present, so they are then also responsible for their child's safety. Be careful with the swimming parties!



---
Nemo Party Food
Goldfish
Gummy sharks
Finding Nemo fruit snacks
Blue, green and orange candies
Blue Kool-Aide or Orange juice / pop
Ice-cream decorated with sprinkles, and candies
Nemo Cake or cupcakes say "Happy Birthday Sharkbait"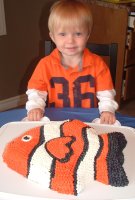 Nemo Cake
(Shared by Andrea)
Under The Sea Party (Shared by Brandy)
---
Finding Nemo Birthday Party Favors
Send the guests home with many reminders of the fantastic underwater adventurous time they had at the Finding Nemo Party! Create your loot bags to have many themed fish and underwater fun activities to take home.

Finding Nemo loot bag
Fill with lunch pack of fish crackers
Nemo Stickers
Fish Bubbles
Water guns
Top of Nemo Party

More Fun Kids Parties

Share Your Finding Nemo Stories


Teen Party Ideas Adult Party Ideas |
Perfect Party Supplies Discount Newsletter |
Share Your Party Ideas Party Blog |
Site Map |