Having a 40th Birthday Party is a milestone and for some is a Big deal. So, why don't you go "Over The Hill" with these 40th party ideas. Send out some fun invitations with the typical "Over the Hill" jokes, or add a more mature theme by harnessing their accomplishments! Share with everyone what a great person they are. Stress that "Life begins at Forty!"
Be sure to have out old photo albums, scrap books and a "Before and After" photo for everyone to enjoy! Present a slide show. Make a time line of their life. From schools and education, to jobs and careers, travel, old cars, houses, relationship, kids etc.

Remember to keep it positive and not to depress anyone. This is suppose to be fun. Here is list of some fun 40th birthday party decorations, themes and ideas starting with some 40th Party invitations!
Should match the theme of the evening.
E.g., for a beer tasting party, have the top 40 beers from around the world.
E.g., BBQ – roast the guest of honor
40th Birthday Cake. Simple, use 2 large slab cakes and cut out the shape of a 4 and a 0. Use icing in the color of your theme and guest of honors favorite color.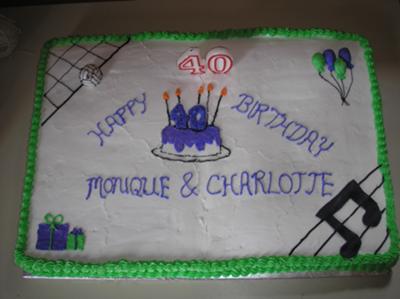 40th Twin Birthday Cake
(Shared by Meghan)
My good friend made this cake for my twin sisters' 40th Birthday Party. One loves music and the other loves volleyball, so it was designed for both of them!